We were recently sent the new EP from a band called Maps to the Hollywood Scars that featured guitarist Alex Grossi from Quiet Riot and vocalist James Durbin who had sprung to fame in American Idol in 2011, finishing fourth. In the short time between receiving the EP called "Volume One" and arranging an interview with James it was revealed that he would be the new lead singer for Quiet Riot.
So when I spoke to James in California via Skype on 22nd March we had quite a bit to chat about. You can hear what he had to say about Quiet Riot, Maps to the Hollywood Scars, American Idol and more on the Friday NI Rocks Show that was broadcast on 24th March. That Show can be found on our MixCloud page - https://www.mixcloud.com/NIRocks/interviews-with-jeff-hoad-and-james-durbin-on-the-friday-ni-rocks-show-on-24th-march/
The interview has been transcribed and can be read below.
My other guest on the Show is Jeff Hoad, lead singer and guitarist with The Rich and Famous and previously front-man of Kings of the Sun.
Recommendation for the EP - http://www.rockradioni.co.uk/back-stage/music-reviews/3096-ni-rocks-recommends-qvolume-1q-by-maps-to-the-hollywood-scars.html
For more info check out the James Durbin website -  https://www.jamesdurbinofficial.com/
Playlist for the Friday NI Rocks Show 24th March 2017
(Uploaded 22nd March)
GASOLINE OUTLAWS – Heart & Soul
KINGS OF THE SUN – Serpentine
Interview with Jeff Hoad Part 1 (8 min)
THE RICH AND FAMOUS – Take Us to Your Leader
Interview with Jeff Hoad Part 2 (7.5 min)
THE RICH AND FAMOUS – Dirty Music
Interview with Jeff Hoad Part 3 (5 min)
KINGS OF THE SUN – First Thing About Rock n Roll I Remember
THE RICH AND FAMOUS – Rich and Famous
THE RICH AND FAMOUS – Stand Back
JAMES DURBIN – Outcast
Interview with James Durbin Part 1 (6 min)
MAPS TO THE HOLLYWOOD SCARS – Never Ending Ride
Interview with James Durbin Part 2 (10 min)
MAPS TO THE HOLLYWOOD SCARS – Till Death
Interview with James Durbin Part 3 (12 min)
JAMES DURBIN – Beautiful
QUIET RIOT – Thunderbird
SCREAMING EAGLES – Streets of Gold
IRON MAIDEN – Hallowed Be Thy Name
NI ROCKS – Hi James. Thanks for taking some time to talk to Rock Radio NI. You've had a really eventful few weeks with the announcement that you were joining Quiet Riot. We'll talk about that a little later, as I wanted to chat first of all about the EP that you released recently with Alex Grossi under the name Maps to the Hollywood Scars. How did you and Alex end up working together?
JAMES – I was doing a residency show in Las Vegas and I happened to run into Alex at a restaurant. We had known each other through a mutual acquaintance a few years ago; around the time that I was on Idol. He ended up going to the opening night after party for my Vegas residency and he got up with the house band and we played "Sweet Child of Mine". We switched contacts and at that point fast forward to when the residency ended and Alex said what have you got going on next? I said I was going to start writing for the next album and I'm thinking about some other projects; what did you have in mind? He said he had these instrumental and that he would send them my way – just write and see if anything comes out. He sent them over and I started writing immediately and then recorded something on my laptop and sent it back to him within a couple of days. I was super stoked and kept writing! He kept sending more instrumentals and soon I had like 20 ideas, 10 of which were already recorded.  I said I'd just send them to him. Instead of wanting to release all ten at the same time, we decided to break them into two EPs of five and five.
NI ROCKS – Where did the name of the band come from? I read somewhere that you had been in a band previously called Hollywood Scars. Where did the change in name come from?
JAMES – My old band 'Hollywood Scars' happened before I was on American Idol and it ended quite abruptly. I'd always loved the name and the concept of and knew that I wanted to use it for something else in the future. This just kinda fitted the bill. Alex isn't from Hollywood, but all the time that he has spent there, he has pretty much become it – mentality wise and being in the industry. That mixed with my stuff with Idol being there. He decided to add the 'Maps to the' part of it. It's less of a band, more of an entity, more of a project, like a title. It's not really a band – it didn't start off that way. It might end up that way and maybe we'll drop the 'Maps to the' at some point, but for now that's it. Originally my idea was to do 'Hollywood Scars' as the band name and then the album title would be "Maps to the Hollywood Scars Volume 1", so it all kinda the same thing.
NI ROCKS – As you've mentioned there are five tracks on the EP and you wrote them along with Alex. Where were they recorded?
JAMES – We recorded them at Desert Moon Productions in Las Vegas which is where 'The Count' Danny Koker from the TV show over here in the States called "Counting Cars" works. He does that show and owns this beautiful facility where he customises all his cars and he has a full blown beautiful studio there as well. It just made sense to do it there as Alex had a great connection there.
NI ROCKS – Who else appears on the EP other than you and Alex?
JAMES – Dizzy Reed from Guns n' Roses plays keyboard – he did string arrangement and keys on the album in-between his shows with Guns n' Roses. That was pretty cool to have him on it. We didn't get him in the studio, but we hope to get him for a live performance for a music video or something.
NI ROCKS – The press release from New Ocean Media suggested that work on "Volume Two" had already commenced and that a release wouldn't be too far away. Any update that you give us on that?
JAMES – It is pretty much for the most part ready to go, as far as artwork and recording. There are a few things I've got to do as far as  vocal changes – go back in and fix a couple of things. But we're probably going to hold off on releasing it for a little bit; at least until the new Quiet Riot "Road Rage" album is released. I'm re-writing and re-recording  that entire album. The plate has got a little bit full at the moment but fortunately the 'Volume 2' songs for Maps to the Hollywood Scars  are already written.
NI ROCKS – We'll play a track from "Volume One" now. Do you want to pick one and tell us something about it?
JAMES – Absolutely! Let's play "Never Ending Ride". In terms of genre it's probably the most pop song on the album, but it's got these really uplifting choruses in it and its very anthemic. I feel the verses are very AFI and the choruses are My Chemical Romance; which shows a lot the music that I grew up listening too. It's personally one of my favourite songs and the next one that we're going with for radio.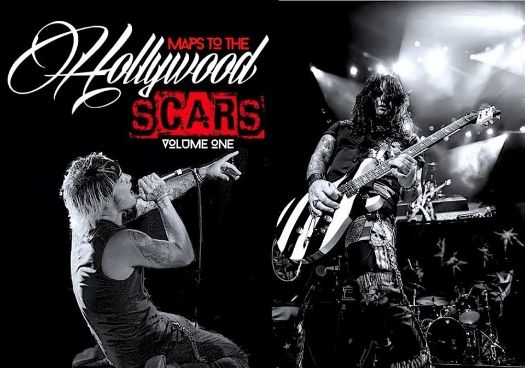 NI ROCKS – At the start of March you were revealed as the new singer for rock icons Quiet Riot. How was that approach made and what was your initial reaction?
JAMES – The initial reaction was definitely a "ahhh"! (laughs). We were doing the Maps to the Hollywood Scars stuff and I was still doing my solo albums and was about to launch into recording an acoustic album that I'd been putting off for a while. I'm also working on a recording project with my wife and a cover band and all these different things. Mix that with fatherhood and everything! Yeah, the Quiet Riot discussion came up and there wasn't really a lot of time to really think about it. I was in talks with Frankie Banali back when I'd signed on to do the Vegas residency, before I'd even met Alex. There was an understanding of what was to be expected and it didn't take me long to decide it was the right thing to do.
But it seems like every week there has been a new thing that has happened. First it was, you're joining Quiet Riot but we're going to try to keep it hush-hush until we get a photo-shoot done and different things. Then the news leaked and I was doing all this press and then Kevin DuBrow's brother Terry have us his blessing, which he'd never done before. And then, fast forward a little bit further, I'm re-writing and re-recording the album. It's very special. I consider all the different things that have happened to be really important to me and really special. Just this weekend, I fly out tomorrow night for a show on Friday and a show on Saturday. On Saturday we're opening for Cheap Trick in Ohio. I've never seen Cheap Trick live, let alone open for them, so it'll be great fun.
NI ROCKS – Your first live performance with the band was just a few days ago and it has received quite a bit of coverage on the forums and social media. Were you happy with how everything went?
JAMES – Absolutely. Of course there are different things that you do as a performer and you catch yourself doing live. We had done two days of rehearsal a week before the actual performance. So between the last day of rehearsal going through everything; that's going through the songs, not the dialogue in-between that I come up with or introducing songs, or if something happens on stage and I need to make time and all those different things, it went really, really smoothly I think. It couldn't have gone better for our first show. It felt like our 101st show the way everything went – the dynamics on stage, inside jokes, joking around with each other, winking at each other on stage. You can't buy those things with a band. In order to really understand how the concert was from a fan perspective, you'd have to ask somebody else, but from a performer perspective I couldn't ask for more.
NI ROCKS – I've interviewed Jizzy Pearl a few times and he spoke about the demanding tour schedule for Quiet Riot as well as acknowledging the impact of YouTube and knowing that your performances get judged on the internet after every show. As a singer, do you try to ignore any negative trolling on social media or how do you deal with that?
JAMES – Yeah, you try to ignore it. Of course it gets brought to my attention and I've spoken out about it before. Obviously it's out there and my words are out there, but that was before I'd even performed. I come from "American Idol" so the moment they showed my face, let alone heard my voice, on TV there were sites that were just making fun of me and all those different things. That stuff is out there. If you want negativity in your life there are many more places to find it than positive things. It's good to keep things positive, especially with the tour schedule, like Jizzy said. You can use as much positivity in your life as possible. I don't like the redeye flights but I also don't like being gone from my wife and kids for an extended time, so you take the good with the bad. It's a fact of life.
NI ROCKS – As you mentioned you're re-recording the tracks for the new album. Do you have a timescale for getting that done and when do you think the album will be released?
JAMES – I'm currently writing and recording demos and sending them back and forth. I'm just about done. I have two or three songs left to write and then I will be recording my vocals over the next couple of weeks in Santa Cruz where I live. So far, so good. I've only heard one song from the previous incarnation of the album, so I don't have a real understanding or real idea of what that album sounded like – the vibe or the style. In this case I get to write using my influences. So there is a real 80's vibe to it. There is a lot of stuff that is very Zeppelin like – some real Led Zeppelin grooves. Frankie is so heavily influenced by Zeppelin and John Bonham - that stuff is just completely bleeding out on this album. It's really great. It's like nothing else that I've ever been a part of before – timing wise, the scheduling, the writing, the format. Fortunately, I had the experience of writing the Maps to the Hollywood Scars songs with Alex. Alex would send me instrumentals and it was up to me just to write within these confines, but the flip-side of that is that I get to just write with confines, so it definitely worked itself out and it's been a lot of fun. Stressful, but fun.
NI ROCKS – Presumably the band will be touring to support the new album. Do you now if there are plans to come to Europe and the UK?
JAMES – I hope so; I've never been to Europe or the UK. I've been to Kyrgyzstan, and to the Philippines and Canada, but that's it; so I definitely hope so. That would be a dream come true for sure.
NI ROCKS – You've toured widely in North America with the American Idol tour and promoting your own albums. Are there any venues on your bucket list of places you'd like to play?
JAMES – Pretty much anywhere that I haven't played yet. Anywhere anybody wants to see me. I've heard there's a city in South Africa called Durban, so I'd love to play there. There are so many places that I've always wanted to go to and experience. I want to see real castles and see places that are older than any building in the United States. The oldest thing that we have here is a bell in a church. It's not like real Old World though – it was where it all started, where the Revolution was, but I'd love to get out there and experience that.
NI ROCKS – We'll play another track from the Maps to the Hollywood Scars EP now. Again, I'll let you pick one and tell us something about it.
JAMES – Let's play "Til Death" – we refer to it as a ballad. It's the song that we used as the lead-in single. Yahoo Music did a piece on it and premiered our lyric video that I made. It's about losing a loved one – and it can be anyone; it doesn't have to be a lover, or a father-figure or anything, but I wrote it from a place of loss. I'd just recently read my grandpa's memoirs which he wrote – he passed away about 10 or 12 years ago, but I've only now read it. So I read that and it put me in a place where I was really missing him. And I was thinking about my own father and had a close friend pass away recently. He was the first person, other than family, that I knew very well to pass away and it kind of inspired me to write this song. It's called "Til Death".
Dim lights Embed Embed this video on your site
NI ROCKS – I must admit I've never watched American Idol or any of the UK equivalents, but there can be no doubt that some great talent has emerged from those kind of shows. For you, was it always about trying to win or was the goal really to get the kind of exposure that you wanted?
JAMES – For sure it was about getting exposure, but no-one goes on that Show without really wanting to win. It gets competitive. But at a certain point you're thinking about the other people; about your friends and most of all about your family and what I really wanted to do was to get home. It was fun to make money and make a living doing that, but along the way I realised that it wasn't so much about me, and "American Idol" isn't about connecting people to the music, it's about connecting people to people. They connected me to my fan base of people who feel that they don't fit-in in life and feel that something is wrong with them – they're outcasts, thrown-out and punished for something that they can't control. That something that has been really important for me – to connect with my fans on that end. One thing that I've noticed about "American Idol" – I think that's what gives me the ability to be able to record a rock album and then, for whatever reasons that I had to for the label, to record a pop album. But I didn't lose followers or people, because they are more invested in me, my voice and in my song-writing, no matter what the scope is, and I realised that and that's what "American Idol" and pretty much all those Shows do – give you that fanbase.
NI ROCKS – Your first solo album in 2011 was "Memories of a Beautiful Disaster". Was that a bit of a wish list of people you'd like to work with? Some of the names on there - James Michael, Marti Frederiksen and Hardcore Superstar – was that a wish list for you.
JAMES – Yes. That was immediate. James Michael is one of my favourite song writers and music producers. After my "Memories of a Beautiful Disaster" album, I was working on a second album out in Nashville, Tennessee with James at his home – practically a castle! The difference between what you can get in Los Angeles for x amount of money is like a two storey house or whatever with a pool; you go to Nashville you get a full blown castle – 5 storey, dungeon, underground recording studios, elevators,  everything. It's insane! But, I got to write with him for two months and he was supposed to be making my album; but the record label never gave us any direction, so when I went to them with 40 songs after two months, they said they didn't like any of them; you're making a pop record. That was a blow! Marti Frederiksen – phenomenal, writes for Aerosmith, writes for Rihanna now, all across the board. I don't know if you know the movie "Almost Famous" – the Cameron Crowe film - Marti Frederiksen, I can't remember if he is in it, maybe he plays the drummer in the band, but he was the singer of (launches into the song "Fever Dog") 'Fever dog, scratching at my back door' ; that's him singing (Note – Marti performed the vocals for the band Stillwater on the movie soundtrack). That was also cool. Hardcore Superstar are one of my favourite bands. They're from Sweden. They wrote and sent over a song. Then we got Mick Mars from Motley Crue to come in and play on it.
NI ROCKS – You're from California, would you say the LA music scene was your biggest influence and what bands were you listening to when you started off in the music business?
JAMES – Yeah, the LA music scene pretty much stands out in my performance style and my vocal style. When I started to get into the business, I guess around the time that my band had ended – the Hollywood Scars original band. There are some videos on YouTube, just type in 'James Durbin Hollywood Scars' or 'Hollywood Scars Santa Cruz', and they're awful; maybe don't look them up! We've got the hair and the tight pants and the cowboy boots and loud shitty guitars. We had that vibe and energy really that the Sunset Strip captured so many years ago. My musical interests have always been across the board. I've always loved Led Zeppelin, The Beatles, The Doors, Aerosmith and of course I grew up and was a teenager in high school in the mid 2000's when all the Emo bands were out – My Chemical Romance, 30 Seconds to Mars, AFI, the original Panic at the Disco when they were a band and just a guy. So there is a lot of different influences – 80's stuff and Emo stuff, and I think that has worked and it really shines out on the Maps to the Hollywood Scars project. It's mixing those modern influences of mine with the classics and the 80's stuff. "Never Ending Ride" is super modern and catchy, but "Til Death" is very power ballad. "Lost Boys" is very 80's Hanoi Rocks / L.A. Guns kind of vibe, but "Abomination" has a little bit of an Alter Bridge / Avenged Sevenfold feel to it.
NI ROCKS – What do you find yourself listening to now? What would be the last gig that you went to (other than Quiet Riot of course) and what was the last album that you bought?
JAMES – Oh man! The last album I bought was Chris Stapleton's "Traveller". My wife listens to a lot of Country and so, so do I (laughs), but I really enjoy the story-telling. It really helps me and inspires me creatively with song-writing; to go a different way with the song. I've been listening to Backyard Babies from Sweden, I love them. So, a lot of Country and a lot of Backyard Babies. And a lot of Quiet Riot of course. The last concert I went to was this group called The Wood Brothers – they're just phenomenal. My wife and I went, we'd been wanting to see them for years. I'd never seen them live and didn't even know what the singer looked like. In my mind I thought he was going to look different and thought he would have a different vibe. It was amazing. I definitely recommend checking out The Wood Brothers.
NI ROCKS – You seem to be quite active on social media. How important do you think that is for artists these days? Is it something you enjoy or more of a necessary evil?
JAMES – Definitely a necessary evil! (Laughs). I enjoy just making music. Of course it's great to connect with your fans and especially in this day and age it is necessary. But on the other hand I've better things to do – to write more songs, be more creative and keep my mind off of work. You just kinda got to do it. Before "American Idol" I had a flip phone and I fought having an iPhone or any kind of smart phone. If it makes phone calls, it should not search the internet (laughs). Games and phone calls yeah – the little centipede game or whatever it was.
NI ROCKS – Back to the old Nokia phones!
JAMES – I wish! I know Paul McCartney still uses a flip phone. He doesn't have an iPad or iPhone or anything like that.
NI ROCKS – With the work on the new Quiet Riot album and Volume Two of Maps to the Hollywood Scars in the pipeline, do you anticipate a fourth solo album anytime in the near future?
JAMES – I think so. I wouldn't necessarily say the near future. I'm going to do an acoustic solo album using a couple of my band members. Record it and do it independently here in Santa Cruz. I definitely see that on the horizon for some time this year. Originally it was going to be the Hollywood Scars album coming out in the spring and then my acoustic album coming out sometime late summer, but all that has changed (laughs). We'll see. Everything is a little up in the air right now. The main focus is Quiet Riot and getting those shows rocking and getting into the studio and recording all the songs for "Road Rage". Never say never though. There is a lot of stuff that could possibly happen.
NI ROCKS – That's all the questions I have, thanks for taking the time to answer a few questions for Rock Radio NI. Best of luck with your future projects. To finish I thought I'd get you to pick a track from one of your solo albums and something from Quiet Riot to play. What shall we play?
JAMES – From my most recent solo album "Riot on Sunset" let's play track number 3 entitled "Beautiful". It's very retro, classic rock. It's got hints of Iron Maiden, Scorpions, a lot of Dio and a vicious, ripping beautiful guitar solo that my guitarist Marc Putnam delivered live in one take. He didn't write it, he just went in there and he played it and felt it. That's how a lot of that song came together. It is what the title is, it's "Beautiful".
NI ROCKS – And something from Quiet Riot?
JAMES – Let's play "Thunderbird" from the "Metal Health" album. That's a beautiful, beautiful song and it's probably my personal favourite. We weren't going to play it for some smaller shows, but the way that I delivered it at practice, we ended up adding it to the set for the shorter shows to highlight the song. It's a gorgeous arrangement that Kevin DuBrow arranged and we play it in honour of Kevin and in honour of Randy Rhoads for whom it was written.
Dim lights Embed Embed this video on your site