Earlier this month I posted a recommendation for "Roadkill" the excellent debut album by Dead End Heroes (http://www.rockradioni.co.uk/back-stage/music-reviews/1588-ni-rocks-recommends-qroadkillq-by-dead-end-heroes.html ).
The band features Carsten 'Lizard' Schulz  on vocals, Rolf Munkes on guitar,  Daniel Voegeli on drums, Paul Logue (from Eden's Curse) on bass and Holger Seeger on keyboards.
Rolf Munkes also produced the album and he played a big role in the formation of the band. We contacted Rolf through M.E.P.R. to ask a few questions.
NI ROCKS - Thanks, for taking some time to answer a few questions for Rock Radio NI. Dead End Heroes have just released their debut album "Roadkill" and we wanted to ask a few questions about the recording of that album, future plans and a few general things.
Interestingly the album started off as a solo project from drummer Daniel Voegeli. Was it difficult to persuade him to take it forward as a band and how much does the finished product reflect that early work?
ROLF - "It wasn't difficult at all. Daniel presented me his ideas, which he had recorded just with guitars and drums only. There were lots of great songs on it so I recommended finding a singer who might be able to work on them. I sent him Carsten's link first of all and he then bought a record from Evidence One, Carsten's former band. Daniel fell in love with his vocals straight away and contacted him right after that. They quickly agreed to work on a first song to see where this might take us ("Cry For The Moon"), and Carsten delivered some killer vocals for that…. It went from there."
Carsten "Lizard" Schultz, as you say, was then recruited to put lyrics to Voegeli's tracks and perform the vocals. Had you worked together before and what made "Lizard" the right man for the job.
"No, Carsten and I had never worked together before but that was my biggest reason to do this. We've known each other for about 15 years now but never had the chance to work together, so I guess it was perfect timing and I'm really happy with how it worked out. It was absolutely the right decision."
Who took the lead on recruiting the final two band members Paul Logue and Holger Seeger? Had all the songs been written prior to the arrival of Paul and Holger or did they get to have an input as well?
"It was Carsten who recommended Paul and Holger. Both were completely free to play whatever they wanted in regards to their parts. No bass and keyboard parts really existed before then as I said. We did have a keyboard player try out on "Cry For The Moon", and in fact Paul sent in a version of the same song too initially, but that keyboard player wasn't totally right for it, and it took Holger to really nail it. Everything you hear bass-wise and keyboard-wise is Paul's and Holger's."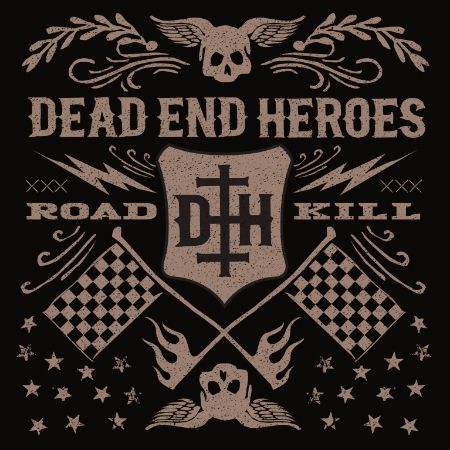 And how did you settle on the name "Dead End Heroes"?
"There's really nothing big behind that name. We just collected a couple of ideas together, had a vote, and this was the one that everyone loved."
The album has a very classic rock vibe to it and the press release refers to Deep Purple, Krokus and Michael Schenker influences. How much of that reflects Daniel's initial song writing or would that be more your influence?
"I think it reflects Daniel's ideas very strongly… As I said, he wrote all the music for the album initially. I then got involved and recorded the rhythm guitars and added my solos; with Paul and Holger adding their parts. I really like Daniel's style. He is mainly a drummer so he is writing guitar riffs with a really natural feel. Guitar players often tend to stick with lots of ideas that come out from their exercises, which sometimes sounds a bit too technical. Daniel just plays without thinking. That makes it sound very fresh and very natural to me."
Do you have a favourite track (or two) from "Roadkill" and why?
"Yes I have; "Roadkill", "Cry For The Moon" and "Stormfront". "Roadkill" has this great energy and the other two just have that great musical balance. Hammond and guitar simply glue together on those and the vocals can then shine."
The first video from the album is for the title track. Was there general agreement on which track to record a video for and is that something you enjoy doing?
"We basically had two song options. After discussing this widely we found that the title track worked best for video. The song just reflects most of the DEH style and the way we do things. We had two days filming; one where the band was essentially playing the song and the other where we filmed with the hot girls and great cars. "Roadkill" is about the "smell of gasoline"."
Dim lights Embed Embed this video on your site
We hear apparently that there has been a commitment to make Dead End Heroes more than just a studio band. Are there any tour dates planned and will the focus be on the European market rather than the UK initially?
"No, nothing really serious so far. The band has spoken about the possibility of doing shows and right now we're basically collecting all of those ideas together."
Are you hoping to get onto the festival circuit, and would there be any in particular that you would target?
"Yeah, of course it would be great to play some festivals. We will have to see what options come in."
You work as a producer as well as being a guitarist. That must put you in a position to spot some upcoming talent. Are there any other bands you've worked with recently that you'd recommend to those reading this?
"Yes, certainly. I've had the pleasure of working on both the last two La Paz albums, with Doogie White singing, and a young, very talented Scottish band called Roadway. I am also the long-time producer for the German metal band Dragonsfire….. Check those out if you can."
A couple of quick questions just to finish with. Presuming you have an iPod or similar, if we pressed shuffle what 5 artists might we find?
"Shinedown, Anastacia, Rainbow, Billy Joel and Eagles."
Can you remember the first album that you bought and the first band you saw in concert?
"First album was Suzi Quatro; and first band was actually a festival with Iron Maiden, Motörhead, Foreigner, 38 Special, and Kansas, etc. in 1981."
Finally, what would you have hoped to achieve with Dead End Heroes by this time next year?
"Working on the last bits for the next DEH record. I think that will be a really exciting record."
Many thanks for taking the time to answer a few questions for Rock Radio NI. Best of luck with the album and hopefully we'll see you out on tour sometime in the near future.
"Pleasure."
Find out more at http://www.deadendheroes.com/ or https://www.facebook.com/deadendheroes
Check out NI Rocks on Facebook – www.facebook.com/NIRocks or Twitter - www.twitter.com/NIrelandRocks