NI ROCKS Recommends "Roadkill" by DEAD END HEROES
Apparently Dead End Heroes are a band that shouldn't be, and "Roadkill" is an album that should have been very different. All of which makes the fact that the album is excellent all the more note-worthy. "Roadkill" was released through AOR Heaven on 30th June and it is well worth checking out.
Initially the whole project started off as a solo instrumental album by drummer Daniel Voegeli. When it got to the production stage however, the decision was taken to build a band around the tracks. Producer Rolf Munkes would play guitar. First to be recruited was German vocalist Carsten 'Lizard' Schulz, followed by Scottish bass-player Paul Logue (who many will know from Eden's Curse) and Holger Seeger on keyboards.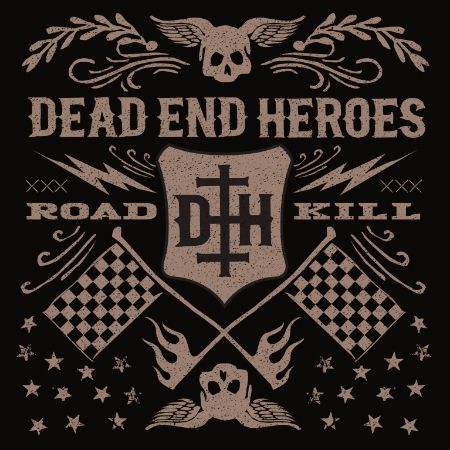 The band members have stated that they will stay together as a functioning band rather than just a studio project. Hopefully that is the case and fans will get a chance to see them on tour and the album won't be the last from Dead End Heroes.
Dim lights Embed Embed this video on your site
Listeners should always form their own opinion (this is a recommendation – not a review), but the PR release accompanying the album states that it sits "musically somewhere between late seventies and early eighties hard rock with a hint of Deep Purple, a pinch of Krokus and an extra serving of classic Michael Schenker…simply good time, old fashioned Hard Rock that packs a punch!" That kinda covers it really and if that sounds like your thing check out the album. You will hear some tracks getting played on the NI Rocks show on Rock Radio NI.
Find out more at http://www.deadendheroes.com/ or https://www.facebook.com/deadendheroes?fref=ts
About "NI Rocks Recommends"
I'm not a reviewer and I certainly don't claim to be a journalist, but I wanted to acknowledge some of the great music being submitted to Rock Radio NI by artists, promoters and labels. That was the simple idea behind "NI Rocks Recommends". To be honest I'm not really a big fan of the whole idea of "Reviews" as they just represent one person's opinion!!  So I'm not giving marks or ratings, trying to categorise bands or compare artists. The albums that I'll be recommending are merely those that I would buy myself and which you'll be hearing played on my shows on Rock Radio NI.
Check out NI Rocks on Facebook – www.facebook.com/NIRocks or Twitter - www.twitter.com/NIrelandRocks
Last Updated (Thursday, 14 August 2014 22:59)