NI ROCKS Recommends "Win Hands Down" by ARMORED SAINT
I'd have to admit that my knowledge of Armored Saint wouldn't go much beyond "March of the Saints" (1984) and "Delirious Nomad" (1985) which my brother had on vinyl and I therefore owned on TDK D90 (see http://www.discount-discs.co.uk/tdk-d90-audio-cassette---5-pack-of-tapes-1125-p.asp for those that don't know what I mean!). I'm not quite sure why a further 4 studio albums between 1987 and 2010 went past me without getting the attention they probably deserved, particularly as I'd made a point of buying "March of the Saints" from iTunes some time ago! Anyway, I'm going to attempt to redeem myself with this recommendation for the new Armored Saint album "Win Hands Down" which was released through Metal Blade on 2nd June.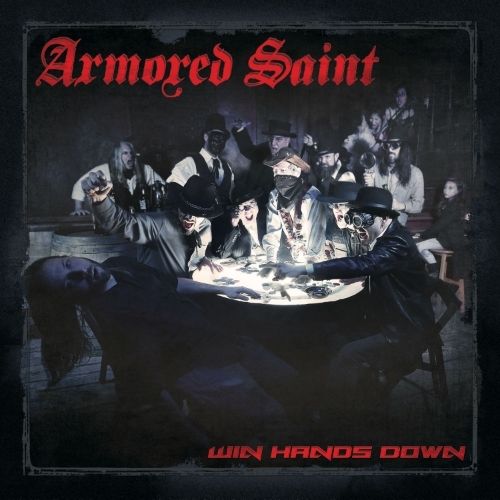 When I'd seen the press release for "Win Hands Down" come through from Metal Blade, I'd been quite keen to give it a listen and I was instantly sold on the opening title track which was included on the NI Rocks A-Z Show on 2nd June. I've actually listened to the album quite a bit over the past few weeks and have been really impressed. The recommendation should have been posted a few weeks ago, around the time the album was released, but better late than never!
Four of the original members of the band from the early 80's remain with John Bush on vocals, Joey Vera on bass and brothers Gonzo (drums) and Phil Sandaval (guitar). The "new" boy is Jeff Duncan who joined the band as guitarist in 1989. Bush had joined Anthrax in 1992, leading to the initial break-up of Armored Saint in 1992. There was a brief re-union from 1999 to 2003 during which they released a studio album and a rarities album, before they reformed properly a few years later, releasing their sixth studio album "La Raza" in 2010.
Check out http://www.metalblade.com/armoredsaint/
Jonny at Belfast Metalheads Reunited has posted his own review of "Win Hands Down" - http://www.rockradioni.co.uk/news/blogs/belfast-metalheads-reunited/1969-album-review-armored-saint-slay-as-they-win-hands-down.html
Dim lights Embed Embed this video on your site
About "NI Rocks Recommends"
The simple idea behind "NI Rocks Recommends" is to acknowledge and promote some of the great music being submitted to Rock Radio NI. I'll not be giving marks or ratings or analyzing the tracks in great detail; just telling you something about the artist and the album. It's a personal recommendation, not a traditional "review"!
My musical tastes cover most things rock; from he not too melodic to the not too heavy. The albums that I'll be recommending are merely those that I would buy myself and which you'll be hearing played on my shows on Rock Radio NI.
Check out NI Rocks on Facebook – www.facebook.com/NIRocks or Twitter - www.twitter.com/NIrelandRocks