Usually my first full listen to a new album happens when I'm sitting at my desk in work early in the morning or on the bus home, listening to my iPod whilst I browse social media on my phone! Probably not ideal, but those are the realities!  Anyway; sometimes an album, or at least some of the tracks, will just register instantly and I'll think wow! Sometimes, that reaction is a little more slow burning and comes on the second or third listen. Sometimes, it just never happens! I'll be honest and say that "Seven Sins", the new release by Stormzone via Metal Nation Records on 3rd August, falls into that second category. I'm no expert on music, but maybe that reflects the band's own comments that the album is a "little darker, deeper and more extensive" than normal and it takes a little more focus to appreciate how good it is! Whatever the reason, I'm now on my fifth or sixth play through the album, all the tracks are now firmly engrained in my head and that "wow" reaction happened several plays ago! No-one who has supported the band will need me to tell them that they should buy the album, but I will anyway!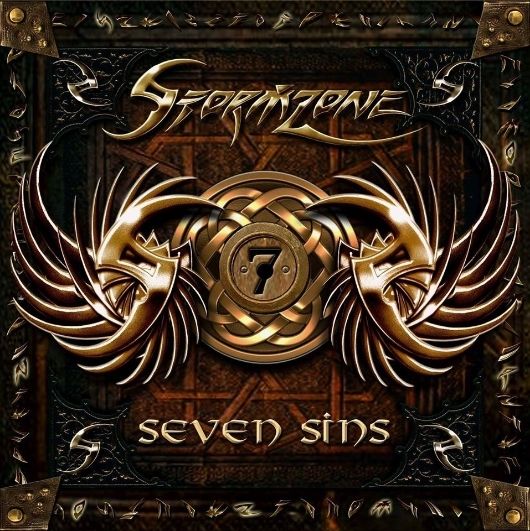 "Seven Sins" is the fifth album from Stormzone since their debut in 2007 and like the two previous albums "Zero to Rage" in 2011 and "Three Kings" in 2013, it was recorded and produced by guitarist Steve Moore in his FireMachine Studio. It's a little different from anything Stormzone have done before in that it is a concept album, focused on Dr Dealer's Emporium, but the sound is unmistakably Stormzone. A series of videos have been released to tell the story behind each of the tracks and these can be found on the band's Facebook page - https://www.facebook.com/stormzoneuk
Favourite tracks at the moment are "Another Rainy Night", "Your Time Has Come", "The One That Got Away" and title track "Seven Sins". Stormzone are John "Harv" Harbinson on vocals, Davy Bates on drums, Graham McNulty on bass and Steve Moore and Junior Afrifa on guitars. There is an album launch show planned for Limelight 1 in Belfast on 5th September. Support comes from  Birmingham based Vicious Nature and local bands Maverick and Donum Dei. https://www.facebook.com/events/382321568642205/
This is the bit where I bore you; by saying how the new Stormzone album demonstrates yet again how many great bands we have on the local rock scene. New releases from The Answer, Trucker Diablo, Gasoline Outlaws, Screaming Eagles and Stormzone should feature in many peoples top 10 or 20 albums for 2015! Some might add the Sinocence EP, the new Midnight Transmission album or something else to their list. Whatever your particular tastes you'll find something on the local scene that is sure to tick the boxes.
Find out more about Stormzone at http://www.stormzone.tv/
About "NI Rocks Recommends"
The simple idea behind "NI Rocks Recommends" is to acknowledge and promote some of the great music being submitted to Rock Radio NI. I'll not be giving marks or ratings or analyzing the tracks in great detail; just telling you something about the artist and the album. It's a personal recommendation, not a traditional "review"!
My musical tastes cover most things rock; from he not too melodic to the not too heavy. The albums that I'll be recommending are merely those that I would buy myself and which you'll be hearing played on my shows on Rock Radio NI.
Check out NI Rocks on Facebook – www.facebook.com/NIRocks or Twitter - www.twitter.com/NIrelandRocks