NI ROCKS interview with HESSLER
NI ROCKS – Welcome Hessler, thanks for taking some time out to answer a few questions for Rock Radio NI. Just to set some background; you're a band based in Chicago who released their first album "Bad Blood" in April 2011 with the second album launching later this year.  I've been following the band and playing tracks on my show for over a year; I think since reading a review of the first album on Sleaze Roxx and receiving the tracks through from Igz.
The band consists of Lariyah Daniels on vocals, Igz Kincaid and Frankie Snakes Sripada on lead & rhythm guitars, Erik Michael on bass and Marcus Lee Cox on drums.
NI ROCKS -  Igz, you seem to be the founding father of the band, and led it through earlier line-ups to what you have today. How long has the idea of Hessler been in development and what have been the main struggles along the way? And why "Hessler"?
IGZ -  I really went gung-ho on wanting to have a high energy heavy metal band in the fall of 2007.  From the day I decided that this and only this was what I wanted to do with my life, I have never looked back.  Struggles are plentiful just like for any other band that actually takes their shit seriously, but the primary problem, and one that still plagues us, is financial stability for members to be able to practice more than once a week.  When I first started the band we would practice 3 - 4 times a week.  Then again, we were younger and did not have as many bills to pay and the cost of life was lower.  I hope we get to a point where we can practice consistently 5 days a week because playing music with HESSLER is my favourite thing to do.   Why Hessler....because N'Sync was taken.
Dim lights Embed Embed this video on your site
NI ROCKS - Looking at the band biography on your website you seem to embody the American culture and dream. A lead singer from Poland, guitarists from India and the former Yugoslavia, a bass player from Arkansas and a drummer from parts unknown!! How did the five of you end up in Chicago making music?
IGZ -  The only really American thing about that band is that the members are a cultural melting pot.  America is still relatively a young country and it was made into what it is by peoples from all parts of the world.    How did we end up playing music together?  Can't tell you everything right now, I gotta save something for the documentary so El Jinete films doesn't stick my head on a spike like they were El Cid.
NI ROCKS – Ok, you can't have an interview with Hessler without pointing out the obvious! You have a rather gorgeous model as the lead singer!! Lariyah, the rock n roll world of being the Screaming Siren of Hessler seems a long way removed from the world of modelling and fitness competitions etc. I know that singing is your greatest passion, but tell us you how you've managed to successfully maintain the two careers.
LARIYAH – You are mistaken. Modelling and fitness are my hobbies but music is my life and that is what fulfils it. Ever since I got the real taste of HESSLER, nothing else mattered anymore. I started my music path in a band in Poland but that never went beyond unfinished demos because I moved to the States. Now, as you can see, we are a team. To be honest with you it's not only a passion but it's an obsession ;) Look at these crazy guys, how can you resist them!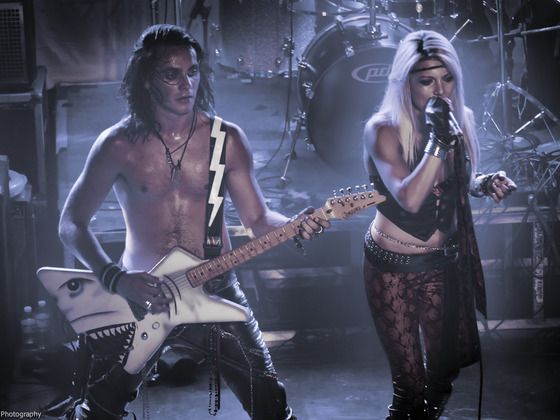 NI ROCKS – Lariyah, do you think your looks make it more difficult being accepted as a serious lead singer and that some people are too narrow minded to see past that?  Any opinions or thoughts on that guys?
LARIYAH – I seriously don't care about it.  If someone doesn't take me seriously based on what they see, then they have their own issues.
FRANKIE –  On the surface it may seem like a detriment, but it honestly raises the bar because for example, someone might judge based on a photo and think that we are all image and no substance.
IGZ - hhhyea, then they come to a show, don't take back what they said, but they sure are generous with their wallets at the merch table and quicker than Jack The Ripper with their camera phones.
NI ROCKS – You're just finishing work in the studio for the second album. Tell us a little about the album, including the title, release date and something about the sound of the new material.
IGZ –  Album title will be revealed when everything is released.  We don't like spoiling anything fans are excited for.  We are finalizing all of the artwork and final mixing, and the album will be released at the end of November before our December Hess Goes West tour.    In regard of the sound of the new material, song writing is not only done by me which is more fun and gives a different range of tunes.  Best to let your ears decide.
(NI ROCKS - Update 27th Nov - The album entitled "Comes With The Territory" was released today!)
Dim lights Embed Embed this video on your site
NI ROCKS – I interviewed Danny Smash from The Last Vegas recently and he said there wasn't much of a rock scene in Chicago other than yourselves. Would you agree with that? What are your thoughts on the local rock scene in the USA in general?
FRANKIE – I think that scenes in the classic sense of the word, a la a Sunset Strip or CBGB's don't seem to exist much in the USA anymore.  The internet has pretty much taken over that role since almost every element of the Music Industry, from promotion, to booking, to signing of bands, is reorienting towards the internet.  Bands and fans from places have used social networking to reach out to other places which kind of resembles a scene.
NI ROCKS – Lookin at your musical influences on the website it's a combination of classic rock like Motley Crue, Iron Maiden and Guns n' Roses to the heavier scene with Manowar, Rammstein and Dimmu Borgir. Do you think your music reflects all these influences? I'm not a great one for labelling music but how would you describe yourselves?
HESSLER – Our influences run deeper than what meets the ear.
IGZ - I think we are still very young as a band to reflect all of our influences, and me being a control freak also puts a limiter on what everyone in the band has had the opportunity to contribute to the material.  I've been working on easing up on this, which will make it more fun and interesting for our musical future.
NI ROCKS – Ok, you're in the van on a way to a gig. What are we going to hear blasting on the stereo? Or do you each listen to your own thing?
MARCUS - ManowaR, at war volume!
NI ROCKS – Talking of travelling to gigs, you've supported some great names on tour and played a few of the big festivals. What's been your biggest personal highlight?
IGZ - Rocklahoma, because we really got to spend time together, bond as a band which is more valuable than anything, and the fan reception at Rocklahoma was the most energetic thing we've ever felt.  Festival crowds in general are always great.  I was also excited to get to play with a singer of Iron Maiden, Blaze Bayley, and the fact that he wears our t-shirt on his own accord is a smile no one can ever take away from me.
FRANKIE - Rocklahoma, first and foremost because of the ecstatic crowd and the time to bond, but on a personal note, Seeing Slash in Velvet Revolver changed my life and getting to play right before him, was like coming full circle.  Kinda funny, Chevelle opened for Velvet Revolver and they played Rocklahoma the same day as Slash and us.  Coincidence, I think not.
LARIYAH - I have to agree that Rocklahoma was the best experience.  We fed off the crowds energy, and we were just insane.
Marcus - It was a real pleasure getting to talk drums with Bobby Jarzombek, Sebastian Bachs drummer, who I really look up to.
ERIK - my first Hessler show in Michigan, from what I remember, I got really drunk, signed a lot of autographs and watched Igz get electrocuted 3 times as it monsooned during our set.
NI ROCKS – Future plans include a gig with UFO shortly and a tour across the USA in December following the album release. What else is planned and how likely is it that we might see Hessler in Europe in the next year?
FRANKIE - Yes, we're going to be headed West down to Texas, Arizona, So Cal, Vegas and everything in between.  Look for shows across North America throughout 2013, and quite possibly Europe during the Summer Festival Season.  


NI ROCKS – The band are currently promoting a documentary called "The Last Kamikazis of Heavy Metal" that is being funded by public donations. Tell us a little about that project.
LARIYAH - Biliana and Marina Grozdanova are our good friends and El Jinete Films founders who came up with this idea. The donations are not for us to spend. The money goes towards their equipment and all necessary things they need to make sure this documentary is done the way it should be. They spend a lot of time on it and put their hearts into it. One day this film will compensate for all of their efforts.
Dim lights Embed Embed this video on your site
NI ROCKS – Longer term what are your plans and aspirations for the band.
IGZ – Once this record is released, summer 2013 we better be on the other side of the Atlantic. The ultimate goal is consistent global touring, riding the storm until we drop... nothing more... nothing less.
NI ROCKS – Ok final question, just for a bit of fun. If you had the choice to be in any other band – past or present! What would it be? And we'll presume that Hessler would be your first response so that one's not allowed!
MARCUS - ManowaR
FRANKIE - GnR
LARIYAH - Hey, Nightwish just dropped Anette! hint hint ;)
IGZ - W.A.S.P. on the first album with Tony Richards
ERIK – Dimmu Borgir
NI ROCKS – Thanks again for taking the time to answer a few questions. We wish you all the best of luck with the new album and the tour. You can be sure that we'll be playing the album on the NI Rocks Shows on Rock Radio NI!
For more information on the band check out
For information on "The Last Kamizazis of Heavy Metal"
http://www.kickstarter.com/projects/eljinetefilms/the-last-kamikazis-of-heavy-metal
Last Updated (Thursday, 04 July 2013 21:52)