The first interview I did for Rock Radio NI was with Clifford Hoad from KINGS OF THE SUN and THE RICH AND FAMOUS back in October 2010. At that stage Clifford was just starting to put together plans following the demise of The Rich And Famous and the interview focused largely on his past (http://www.rockradioni.co.uk/interviews/662-clifford-hoad-kings-of-the-sun-interview.html). Now almost three years later, Clifford Hoad's Kings of the Sun are releasing "Rock Til Ya Die" the first album by the band in 20 years. Check out our recommendation - http://www.rockradioni.co.uk/back-stage/music-reviews/1291-ni-rocks-recommends-qrock-til-ya-dieq-by-kings-of-the-sun.html. It seemed like a really good time to catch up with Clifford and find out what he'd been up to over the past three years and what he had planned for the future.
NI ROCKS – Hi Clifford, thanks for taking some time to do another interview for Rock Radio NI. It's hard to believe that it's almost three years since the last one!! A lot has happened in the intervening period and as we do this interview, Kings of the Sun are on the verge of releasing a new album entitled "Rock Til Ya Die". The first question I suppose should be to introduce us to the new Kings of the Sun. Who do you have alongside you in the band?
CLIFFORD – Garden Gnomes LOL Just kidding!! I've got 2 guitar players riding shotgun that I'm most excited about playing with live, Quentin Elliott & Dave Talon. Quentin has played with the KINGS before when he was just a kid, now he is I believe one of the best lead guitarists in Australia. Dave Talon is a classic aussie rock axe man from the legendary ROLLERBALL band who's loose & flexible style gives the album a sense of freedom that I love. Dave & Quentin play the perfect blend of rhythm & lead guitars to compliment the bands dedication in keeping the old aussie rock sound from extinction . The band will also be powered along by 2 drummers, myself & my ole drumming mate, the human anvil Stefan Berg from Melbourne. I'm still in talks with bass players as we speak. Govinda Doyle played on the album, he is fantastic for our sound but is a recording engineer & can't get away but I'm still trying to talk him into it.
NI ROCKS – The big change is of course that you've taken over on lead vocals from your brother Jeff. Was that a bit daunting for you? Having heard the album, you'll actually very similar in sound and I was really impressed.
CLIFFORD – Absolutely. I've never thrown myself into such deep water before. I'll never see myself as a great vocalist but someone had to sing to keep it all going. It was a point of do or die! Brothers can sound similar though I have a different style to Jeff but the familiarity that you hear, was my voice in all the harmonies of all our past albums. Now it's upfront, I don't know how people will hear it.
NI ROCKS – All the tracks were written by you. Who else had a part in recording and producing the album?
CLIFFORD – Govinda Doyle produced the album who won an Aria award in Australia for Angus & Julia Stone's album. I co-produced with Govinda explaining that we wanted a classic rock sound from the past. Why do we love all those Zep albums etc??? Its the way they sounded, not pushing the listener away, all the instruments blending nicely, slightly glued together as one, yeah ! This is hard to get. Govinda & I have very similar tastes where the drums and bottom end are concerned, so there's heaps of both. The guitar sounds were recorded very very loud, all boutique amps & very warm sounding custom guitars. The playbacks were such a joy to sing over. My vocals scared the shit out of me when I first heard them back but strangely enough I ended up using a lot of my vocal guide tracks, in other words, the first time I sang them was best. Govinda & I both mixed the album, myself having a lot of experience working with Eddie Kramer (Hendrix, Zeppelin), Dave Thorner, (Van Halen) albums, helped in getting the album sounding how I wanted it ! Govinda is a master of analogue & classic old mic techniques. It only took 2 weeks to record, we couldn't afford to fuck around!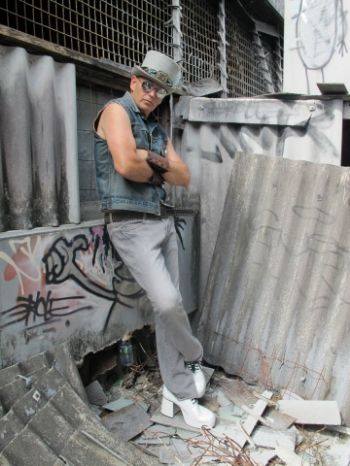 NI ROCKS – Music and life seem to have inspired a lot of the lyrics on the 11 tracks on "Rock Til Ya Die"? I'm curious about the track "Geronimo" though. What inspired you to write that one?
CLIFFORD – GERONIMO is my favourite track on the album, it's the first song I wrote. It came to me in a dream, I picked up some of his spirit whilst talking to an American Indian guy in the States about an old song we did called MEDICINE MAN. I first write everything on acoustic guitar, a nylon string in this case early in the mornings. So when I first heard it electrified by the guys, it blew my mind. An American Indian guy in the States actually sent the song to Geronimo's great great grandaughter & she loved it, bizarre! Its about never ending perseverance & standing up for what you believe, which has been my savings grace in my journey back into music, thank-you Geronimo, your a legend to me!
NI ROCKS – There have already been some great reviews of the album. If you had to sum the album yourself in a few words how would you describe it?
CLIFFORD – CLASSIC AUSSIE ROCK with a shower of stardust just to keep it magical & interesting!
NI ROCKS – In the past few years you'd re-released the Kings of the Sun album "Resurrection" as part of the "Airborn Love Spirits" CD and finally released the previously recorded and un-released "Daddy Was a Hobo Man". Did those releases help confirm and re-establish the Kings of the Sun fanbase and pave the way to the recording of "Rock Til Ya Die"?
CLIFFORD – Yes, re-uniting our back catalogue with all the old fans kinda gave it a rebirth. People just needed to be able to get the music after all these years Resurrecting the myth & legend of the band that was so instrumental in paving the way for the Australian sound overseas. People who saw & heard us hadn't forgotten us in 20 years. This defiantly gave me the confidence to take the next step with the new album.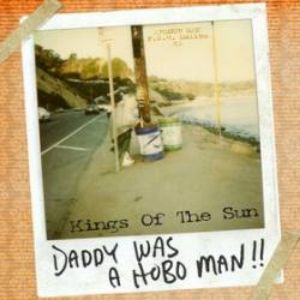 NI ROCKS – You had a bad accident recently that resulted in some damage to your hand. Did that cause any delays or concerns when it came time to record the new album? Have you fully recovered now?
CLIFFORD – Faaaaark , whatever you do don't mention the finger!!! LOL . Yeah nearly lost it hey, you just never know when an accident is going to happen & when it does, so many things are affected. My music, I never thought I would play again at first, then a deep uncontrollable desire came over me to get back into what I'd loved doing no matter what the cost. It was this blind positivity that had me strumming on the guitar, writing songs in agony with my finger in a sling. The drumming came later & didn't prove a problem as the finger that was cut only had to hold the stick not direct it. It's still a bit numb now but I'm so happy & grateful that I didn't lose it & got my second chance, hence the new album.
NI ROCKS – What plans do you have for taking Kings of the Sun out on the road? And do you think a European tour is a possibility?
CLIFFORD – I have every intention of taking the band out as I think our strong point will be a great live show! As far as a European tour is concerned, there is talk of us playing at the Wacken Festival , Sweden Rock Festival & a Rock Festival in Belgium. This would have to be of course backed by the public liking the new album & fan demand.  We've yet to secure anything in the British Isles but the band would love to play Ireland, Scotland & England to celebrate our return after 20 years, sort of a home coming for me personally.
NI ROCKS – You're obviously very proud of the band's place in Australian rock history and keen to reassert Kings of the Sun as one of the big players. How do you think the local rock scene in Australia has changed over the years? Have you had much support from the local music industry/media in getting "Rock Til Ya Die" released and promoted?
CLIFFORD – Australia is the reason we have our signature sound. This sound was developed from the constant touring of the local pub scene out here which like Ireland, I'm sure are quite rowdy places that take no shit from any band. You have to be strong & direct & have a certain charm in your music to pull it off. I remember the Blues Brothers scene with the chicken wire separating band & audience, LOL, I've been there amongst the thrills & the spills of a fully fledged aussie pub crowd, it tends to toughen you up or destroy you. The local scene now still has its pubs though fewer are having live acts these days.  Australia like the rest of the world are tending to lean towards large festivals instead. The support from the local industry so far has been overwhelming with radio stations like Melbourne FM 3RRR with Neil Rogers & Jeff Jenkins , Rockbrat with Colin Gray, & Live and Loud Radio with Rob Russo embracing the new project & promoting the new album & maybe their own need for local music to rule the airways once again. I've always seen the radio as the life blood of the nation & its support is crucial in the breaking of any new rock act.
NI ROCKS – How healthy do you think the Australian rock scene is? Bands like Airbourne are obviously doing well internationally, and I've interviewed a couple of great Australian artists – October Rage and singer/guitarist Laura Wilde – although both seem to spend a lot of time in the USA playing.
CLIFFORD – People talk about a changing scene but I can remember the music biz has always been difficult, living on a wing and a prayer trying to get people to hear your music and like your show, its never been easy. We have all played countless gigs for nothing but the love of it, the music, is what keeps us going. We don't have the population out here to sustain a band all year round, so I understand how bands can end up playing overseas more often, like KINGS OF THE SUN did in the early days. Aussies love their rock & always will, its a cycle that keeps revolving out here, rock n roll keeps re-inventing itself, eg the 2 bands you've just mentioned, which are both great young bands. I've met the 2 lads Joel & Ryan O'Keeffe from Airborne & have nothing but admiration for their perseverance & dedication to the aussie sound. Some of their tracks are really kickarse & with a name like O'Keeffe, they must be carrying some spirit from the late Johnny O'Keefe, one of Australia's first rock n rollers, hell yeah!
NI ROCKS – I'm aware that you've been working on some promotional videos, will there be a music video to accompany a single from the album at some stage?
CLIFFORD – Yes it just depends on the feedback I get from each song. I don't want to make a video for the wrong bloody song!! The promotional videos are my idea of giving the viewer an insight, comical and serious of certain key tracks on the album, they were a lotta fun & I hope they can help shed some light. If people like them, then that's a plus for the album.
NI ROCKS – What would you hoped to have achieved with Kings of the Sun by this time next year?
CLIFFORD – Ideally I would love for people to embrace our new sound with me singing giving me the confidence to get out there & retrace our footsteps all round the world. My dream of course has always been that I would write a song that everybody loved & knew, eg a Highway to Hell, a War Pigs, a Rock n Roll Outlaw that I could leave in my wake as a musician in this world.
NI ROCKS – You'd talked about some of the early Kings of the Sun tours in our previous interview. Is there a gig from that period that stands out above all the others?
CLIFFORD – I remember one gig with KISS in Edinburgh where I was in the crowd talking to a girl, someone threw a clear clowns mask up on stage, it lands at Gene Simmons feet , he reaches down mid song, picks it up and fastens it to his face, with his real face coming out from behind. Along with his big hair, he proceeded to act like a clown in a circus, absolutely fucking hilarious LOL, at this point I knew why he was the King of entertainment. He taught me a thing or two on that MONSTERS OF ROCK tour!
NI ROCKS – You were mingling with some of the biggest names in rock music at that time. I imagine that Axl probably tops the list of those that didn't impress, but who did you find to be the most approachable and likable?
CLIFFORD – Easy, Steven Tyler from Aerosmith! He had the ability to make you feel great about who you were & most welcome in talking to him, he had time for people & his positivity & energy was just so infectious that you loved him for it .
NI ROCKS – As a drummer, if you were to have been given the chance to have played in any band (apart from KOTS) over the past thirty or forty years what band would it have been and why?
CLIFFORD – Zakk Wylde's Black Label Society! I have been a fan of Zakk's ever since I saw him play the Whiskey A Go Go band jam on a Tuesday night. He just joined Ozzy's band, hopped up & played some blues, Hendrix's Voodoo Child & some Allman Brothers! He was sensational & just fucking around. Listening to this guy's albums over the last few years kept me going & dreaming of my new band. Thank-you Zakk, I think you're the greatest!
NI ROCKS – In the last interview I'd asked about current day bands that you'd recommend. The one you mentioned was Rollerball, whose guitarist Dave Talon worked on "Rock Til Ya Die". Have you heard any bands recently that have impressed you?
CLIFFORD – Not bands so much this year but a local aussie artist named Marcus Blacke who has brought out an album called Butterfly Black, that I think is a living masterpiece! It's not rock of sorts just very strong acoustic music with incredible feel & words, a bit like Bob Dylan on steroids or a modern day Roy Harper whom I love as does Jimmy Page.
NI ROCKS – In the previous interview you'd also mentioned some of the early Australian rock bands like Buffalo and Rose Tattoo. I was wondering if they might feature in the answer to my final question. Can you remember the first album you bought and the first gig that you went to?
CLIFFORD – The first album I bought was Cosmo's Factory Creedence Clearwater Revival. I'm pretty sure the 1st gig I ever saw was Black Sabbath, then hailed as the loudest band in the world at the Hordern Pavilion in Sydney, this would have been 73-74. I can remember Bill Ward's white double bass drum kit with a single hanging tom, though not my favourite band at the time they were fantastic but I remember spending half the gig with my hands over my ears, I was down the front copping all the raw amps.
NI ROCKS – Thanks again for taking some time to answer a few questions for us. The new album sounds absolutely fantastic and we hope that it is a huge success for the band. We certainly wish you all the best!
CLIFFORD – Thank-you for your kind praise of our new album, I'm very glad you like it, and thank-you for this interview & supporting us NI ROCKS ; its been a pleasure to know that there are ears & eyes out there in need of constant new music , we all can't get enough of it, like Bruce Springsteen says, "music is a spiritual thing" . ROCK TIL YA DIE!!! God Bless.
For more information on Kings of the Sun check out http://www.kingsofthesunband.com/
or follow the band at
https://www.facebook.com/CliffHoad.KINGS.OF.THE.SUN or
https://twitter.com/KINGS_OFTHE_SUN
Check out NI Rocks on Facebook – www.facebook.com/NIRocks or Twitter - www.twitter.com/NIrelandRocks