NI ROCKS Interview with HYDROGYN
I've been a fan of American band Hydrogyn for quite a few years, having discovered them on MySpace around the time they released the album "Deadly Passions" in 2008. I remember buying that album and the earlier "Bombshell" at the same time from Amazon. There have been various line-ups in the history of the band but constant throughout have been husband and wife Jeff and Julie Westlake. The band have recently released the EP "Break The Chains" and announced plans for a new full length album and DVD to coincide with the tenth anniversary of the band.
I interviewed Julie and Jeff on the phone on 27th April and this was broadcast on the Friday NI Rocks Show on 2nd May and was then available for 8 weeks via the On Demand Player. The show from 2nd May which includes the interview can be heard at http://www.mixcloud.com/NIRocks/
The full interview can be read below.
NI ROCKS – Julie, Jeff thanks very much for taking some time to answer a few questions for Rock Radio NI. I've been a fan of Hydrogyn for quite a few years and as you celebrate the tenth anniversary of the band's creation and release of the first album it seemed like a good time for an interview.
We'll start with plans for celebrating that anniversary. I believe there are plans for a new full length album and DVD later this year. Is there anything more you can tell us about those plans at the minute?
JULIE – Right now we probably know about as much about it as you do (laughs). We're in the planning stages right now as we just recently decided that we were going to go ahead and do a new album. We've just started on the writing process and Jeff has some ideas as far as the DVD goes.
JEFF – The DVD will take longer than the album. I'm anticipating that we'll have the album done, probably by June, looking at a release date at the end of August or 1st September. But the DVD is probably going to be closer to the holidays, just because there are so many thousands of hours of footage to go through and it's literally going to be a chronicle of our ten years so there's a lot of stuff to go through. The album will be out in the early Fall and the DVD probably holiday season.
NI ROCKS – Will there be some new footage on the DVD too of more recent shows or will it be all stuff from the last ten years.
JEFF – Well, it's going to be the last ten years for sure. We have some plans now to do some shows this year and we have a promoter in Europe that we're talking with about a tour in the fall of 2014 or winter. That won't make the DVD, but the shows that we do here, I have a plan in the works to video tape one of those shows in its entirety and include it on the DVD package.
NI ROCKS – Of course you've just released a six track EP entitled "Break The Chains" and a video for the track "Get It On".  Why did you decide to release that track and who came up with the idea for the video?
JEFF – The EP was something just to put out kinda quick. We hadn't had anything out since "Private Sessions" in 2012. We had "Particles" (2013) another retrospect of our career that had demos and never before heard versions of songs and things like that. The reason for "Get It On" being the new video, that's strictly Julie's doing. Everybody has to understand that this is Julie Westlake's band so she says she wants to do a video for "Get It On" we all just said OK!
JULIE – I had some ideas for what we wanted to do. We knew we wanted to release a DVD and Jeff had some ideas of what he wanted to do and I had some ideas of what I wanted to do so we just went ahead with "Get It On". It's one of the tracks on the new EP that I really liked. The idea for the video was just something I came up with and it was a fun shoot and we enjoyed doing it.
Dim lights Embed Embed this video on your site
NI ROCKS – One of the tracks on the EP is a Michael Wagener mix of "Rock Me". Michael of course produced the very successful "Bombshell" album in 2006 and had been involved on a smaller scale on "Deadly Passions" in 2008 and "Judgement" in 2010. How would you describe the band's relationship with him?
JULIE – We've created such a great friendship with Michael. Doing the "Bombshell" album was something that was really cool for us - to be able to say that we had worked with Michael. Since "Bombshell" we have become really become close friends. We continue to do some recording as Hydrogyn with Michael as well as other projects that he is working on. He'll call up and say "hey Jeff can you come play" or "hey Julie can you do some vocals" for different artists. We've created a really good friendship – Michael is such an awesome person, and his girlfriend as well, so we really enjoy our time together.
JEFF – The other thing I'd say is that our schedules are packed and so different that we never have the time to lock in to do a whole album together. When we had started to do the EP, Michael had called up to say that he needed a band for a workshop that he was doing showing engineers and producers how to get that Michael Wagener "zing" so to speak. So we got him to do two songs – "Rock Me" and "You're the One". That's kinda the way it works just because of scheduling conflicts and stuff. I'd love to do another whole album with him, but the cool thing is that our relationship is about more than the music.
NI ROCKS – Apart from Michael, who else was involved in writing, recording and performing on the latest EP?
JULIE – Most of the album was pretty much Jeff and I. "You Are the One" was actually written lyrically by a friend of ours, Deb Cowan, now Franklin. She was getting married and wrote the lyrics to "You Are The One" and wanted us to put it to music to get played at her wedding. Her husband was in a band that Jeff had just got done recording several months ago. We brought in Jeff Boggs again to actually help create the music for "You Are The One".
JEFF – John Cardilino who is our new drummer was involved in just about every track except "Break These Chains". On "Private Sessions" we had a writing team of five or six people that we bounced ideas off. With the new album it's pretty much the two of us and probably Boggsy. It'll be an in-house situation.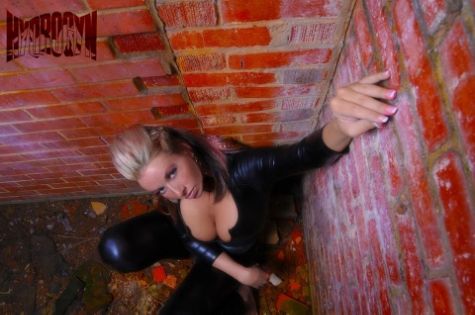 NI ROCKS – The last studio album was "Private Sessions" in 2012. Unfortunately you'd experienced a series of health issues and personal losses that meant of course that your focus was elsewhere and there wasn't the usual level of PR around that album. Are you hoping that with the new album later this year that the band can get out on tour and promote the new releases?
JEFF – It's a shame because that album was so good.
JULIE – Absolutely. We always like touring and going out and meeting the fans. So putting out an album like "Private Sessions" and not being able to give it the tour that the album deserved, because it is one of my favourites, was something we didn't like having to do, but it was beyond or control. Now things are coming back together again and we're looking to put some PR and stuff out there for the new album and to be able to get out there and tour again.
NI ROCKS – The band undertook a number of successful UK and European tours in the past. Are there plans to bring Hydrogyn back across the Atlantic in the near future? You mentioned there might be something in 2015.
JEFF – Yeah, right now we're talking about it. It all comes down to finances, just like everybody talks about. These days even more so. There are plans to come back. We make no secret about the fact that we love Europe and the UK . We get such a warm reception over there and it's always been very good to us. We're looking forward to getting back in 2014 or 2015, but probably leaning toward 2015 just to make sure we get it all right.
Dim lights Embed Embed this video on your site
NI ROCKS – Hydrogyn have recorded a number of cover versions in the past for the "Bombshell", "Deadly Passions" ("You Oughta Know" – an Alanis Morissette track) and "Judgement" ("Gold Dust Woman") albums. Two questions really. Are there plans to record any for the new album? Secondly, why did "Back in Black" appear on some versions of the "Bombshell" album and "18 & Life" on others?
JULIE - I think, as far as will we ever record another cover for one of our albums, most likely yes. We started out as a covers band, that kinda how I switched from the country genre into rock, by growing vocally to do the rock stuff. We were a cover band for a couple of years
JEFF – Yeah, for about a year and a half. That's when we met Michael.
JULIE – There's always songs that we are big fans of like "You Oughta Know", "18 & Life" and "Back In Black" and we'll probably have more covers out there.
As far as why "Back In Black" and "18 & Life" were on the album – those were special requests from Michael when we were recording.
JEFF – When we did "Back In Black" it was the first song we recorded with Michael. Before the album was officially released we pressed 1,000 copies with a 20 page booklet in it to release as a kind of collectors edition. "Back in Black" went on that. After that came out, to make those worth a little extra something, Michael said lets do another cover song, lets do "18 & Life" which of course he originally produced with Skid Row. So we did that song and it went on the rest of the pressings across the world, so if you find a "Bombshell" that has "Back In Black" on it there's only 1,000 of those in the whole world so hold onto it.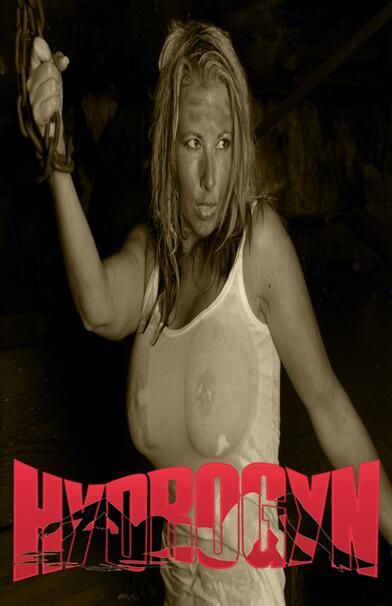 NI ROCKS – You've both worked on other projects over the last 10 years. Julie, tell us a little about your solo album "If Ever A Day" which was released in 2010.
JULIE -  That was actually really something that I did for Jeff's dad (laughs).
JEFF – And your mum and dad.
JULIE – Yeah. A lot of my family and friends were used to me growing up doing the country stuff, but I had never actually recorded anything except for the Hydrogyn stuff. Our parents had been saying I want to hear you doing this song or that song so we put that album together specifically for Jeff's dad for a Christmas present. Once we had it done people heard it and thought wow. It was different for people to hear me doing things that they weren't used to hearing me do. That was how that came together. It was really supposed to be a country album, but we ended up doing some other stuff on there so it wasn't really country so to speak. There was a little something for everybody on there.
NI ROCKS - You're from Ashland in Kentucky which I guess would be a stronghold for Country Music (indeed, according to Wikipedia, Billy Ray Cyrus and The Judds come from that area!). There is a lot of cross-over from Country to Rock music. How much of an influence did Country music have in your development as a singer?
JULIE – Of course I grew up singing country and gospel and never really listened to a whole lot of rock. Country is how I developed myself as a singer, but when you get into the rock genre it is so different and it takes a lot more out of you vocally to perform those songs. Country is kinda where I came from but I don't know much it really influenced me as a singer because I've really switched gears to the rock genre.
JEFF – Personally, I don't see her as a country singer. I've seen her on both sides of the fence and the voice she has now is just a stronger more powerful version of what she had before. There's nothing different about her delivery, she's always been a powerful singer that had a lot of emotion in her voice. I've objectively seen her from both sides and when I first heard her I never considered her to be a country singer.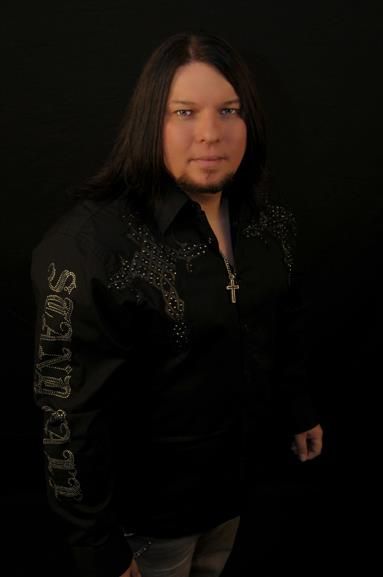 NI ROCKS – Jeff, you've been involved with a couple of bands – URA KIA and more recently Audio Porn (https://www.facebook.com/audiopornfans). We'd posted a recommendation for the 2012 album "Jezebel's Kiss" on the Rock Radio NI website and have played a few tracks from it on the shows.  How would you compare working on that album to a Hydrogyn recording? I was going to ask if there were plans for further releases but I've just actually read today on Facebook that there is a new album coming out.
JEFF – I do stay quite busy. Ura-Kia was something that – I met a guy down in Alabama and we hit it off. I was down there producing a record for another band. I had a lot of material sitting around that was very non Hydrogyn and one thing led to another. He had a break and came to Ashland for a couple of weeks and we put a whole album together – just me, him and Jeff Boggs. We put the whole album together and put it out. Then he got involved in ghost hunting and a bunch of other things and got on TV with a reality show so that project kinda went by the wayside.
The Audio Porn thing, I was working with Azriel St. Michael who is the singer in Audio Porn and basically it's his band. He was in another band at the time and came down to my studio to do vocals and liked what I was doing and said could I fix a couple of guitar parts and mix it for him. I said yeah and one thing led to another and I'm recording an album with him and he somehow coerced me into being his guitarist. The new album is ready to come out now, I'll send you some tracks that you can start playing. That's coming out, the new Hydrogyn album is coming and I keep threatening to do a solo album, but every time I do Julie comes back into the picture (laughs). I don't ever want to rip off Hydrogyn of good material.
I'm producing a band right now that is sounding great. Another band from Alabama, called Angel's Revenge. (https://www.facebook.com/officialangelsrevenge). Very progressive, modern metal really with a female singer who has an amazing voice, very similar to Julie. I've plenty to keep me busy.
NI ROCKS – Audio Porn are a band from Toronto aren't they?
JEFF – Well, the base for the band is out of Toronto. The bass player is in Toronto, Azriel is actually is Saskatoon on the west coast of Canada, I'm here and the drummer is in Cleveland.
NI ROCKS – We've mentioned that it's 10 years since the formation of the band and the release of your first album. How much do you think the music industry has changed over those years? Others have suggested that the internet makes it easier to promote a band but more difficult to sell records. Would you agree with that?
JEFF – I don't know, I see all the back and worth from people in the industry talking about things.  I do totally agree that the internet has pretty much killed record sales over the years. You don't see bands sell the amount they used to but everyone still has the music because of free downloading. All I can say is that it hasn't affected us. I don't pay much attention to the industry to be honest. We do things on our album that make them unique. If you get an illegal download there's going to be some things that you're missing and those people inevitably come around to get it because they want it. If it was left up to me I would say lets do away with CDs and go back to vinyl just because it is almost impossible to digitise.
The industry is pretty much a sham. I was just reading an article the other day from Joey Kramer of Aerosmith who is saying they may never do another studio album just because the new album they released only sold 240, 000 copies in the first week. I mean to a guy that is used to selling 750, 000 to a million copies in the first week I'm sure that is a shock. Everybody has their own way of looking at it. For us, we just keep going on. Nothing has affected us and until it does we'll just keep on rocking.
NI ROCKS – Jeff, you mentioned working with other bands. Any advice that you would offer now to bands starting out?
JEFF – There are several things we could talk about, but to keep it short – Make sure you have people in the band who are like minded, make sure they all have the same goal. The biggest thing I tell people, and this is where most musicians falter and why you see so many musicians in and out of bands, being fired and everything. It's not a party guys. I realise rock n roll is supposed to be fun and I have a great time with it, but if you treat it as a business and not a drunkfest or dopefest or anything like that you can make a living, you can do well. But if you're one of those people, which is probably about 95% of them, who think it's just a big party and a good time you might as well stay in the bars and stay in the garages because you're not going to do anything with it.
NI ROCKS – I've a few questions that I usually ask those that I'm interviewing. Firstly, any bands or artists that you've heard recently that you would recommend to the Rock Radio NI audience?
JULIE – Jeff does a lot of work with bands that he is producing or recording stuff in our studio. He mentioned the band from Alabama called Angel's Revenge, with a female vocalist and very talented. I would love to do a tour with them. I think it would be really cool to do something like that in Europe. Jeff did a new album for a band called Wrathchild.
JEFF – If you're into the more heavy death metal type thing there's a band out there called Cognition that will be coming out pretty soon. Black Stone, that we talked about earlier – the song we wrote for the girl's wedding – they're more of a blues rock band, very good stuff. As far as other bands that we listen to out in the mainstream, I can honestly say we don't do it. We have Sirius XM in the car and we'll bounce around from channel to channel but I can't even tell you the bands that I hear on that station. I'll hear songs that I like but I don't pay attention to it. I'm so involved in my life and the fact that we're already writing for the new Hydrogyn record, I'll just listen to Howard Stern in the car rather than listen to music.
NI ROCKS - Presuming that you have an iPod or something similar – what five artists might we find if we hit shuffle?
JEFF – On my iPod you'll find Dio, Dio, Dio, Black Sabbath and Rainbow. That's the honest to Gods truth isn't it?
JULIE – Yeah, pretty much.
JEFF – To me that guy is the god of all things that are rock and heavy metal. For me that's it. For Julie..
JULIE – I'm in the car with you so pretty much listen to what you're playing. He has a variety of music on the iPod but if its on shuffle then the majority is Dio.
JEFF – If other people are around and I don't want to bludgeon Julie to death with that stuff, you could hear Dio then No Doubt and you might hear Prince or Eminem or something like that and then it will come back to Rob Halford, Judas Priest or Saxon. I'm an old school guy. I like that stuff. The Godz from over here. There is some new stuff on there. You might hear a song from Within Temptation or Nightmare or Gotthard or something. It's just full of stuff, but my preference is Dio.
NI ROCKS – Can you recall the first album that you bought and first gig that you went to?
JEFF – The first album I bought was Kiss in 1973. I'm dating myself! I bought it in Kmart in South Point, Ohio. And the first concert that I saw was Kiss and Rush at the Huntington Memorial Fieldhouse in 1975.
JULIE – Wow, what a memory. I think for myself, Jeff always teases and says I led such a sheltered life as a child, because he had his first concert at 9 and I had my first concert when I was about 23 and it was Ted Nugent.
JEFF – My first rock concert was 9. My first concert I think I was 4 or 5 – Johnny Cash. But that doesn't really count. You went to Myrtle Beach to see Ted Nugent!
NI ROCKS – Finally, when we get to the end of 2014 what would you like to have achieved over the next 8 months and what hopes would you have going forward?
JULIE – Hopefully we just have a really good, strong album. You always want to outdo the last album and we've put out several strong albums. It's going to have to be something that we focus hard on, writing some material for the new release. Mainly being able to perform. We didn't do that very much in the last few years, so over the next 8 months hopefully get this album done, have a tour planned out and be ready to hit the road.
JEFF – Yeah, I just want to keep growing. Grow the business, grow the band, grow the listeners. I do a lot of production work now, we built a studio on our property and I've been extremely busy with that and I just want to keep doing that.
NI ROCKS – Many thanks for taking the time to answer a few questions. Best of luck with the new EP and plans for the new album and DVD. Hopefully we'll see you back in the UK in the not too distant future.
For more on Hydrogyn check out http://www.hydrogyn.com/ or https://www.facebook.com/pages/HYDROGYN-OFFICIAL/354840808946 or
Check out NI Rocks on Facebook – www.facebook.com/NIRocks or Twitter - www.twitter.com/NIrelandRocks
Dim lights Embed Embed this video on your site
Last Updated (Saturday, 06 September 2014 20:58)