NI ROCKS Interview With CHAD CHERRY of THE LAST VEGAS
We're big fans of Chicago based band The Last Vegas who are releasing a new album "Sweet Salvation" this month and embarking on a tour of the UK and Europe. I'd previously interviewed bass player Danny Smash back in August 2012, (http://www.rockradioni.co.uk/interviews/1091-ni-rocks-interview-with-the-last-vegas.html) but was keen to catch up with the band again.
I spoke to singer Chad Cherry by phone just before the first show on the UK tour. This interview was broadcast on the Friday NI Rocks Show on 16th May and was then available for 8 weeks via the On Demand Player. The show from 16th May which includes the interview can be heard at http://www.mixcloud.com/NIRocks/
The full interview can be read below.
NI ROCKS - Chad, thanks for taking the time to talk to us at Rock Radio NI. It's almost two years since we did an interview with Danny Smash from the band and there has been a lot happening since then. You've just arrived in the UK to kick off a European tour which includes for the first time a number of gigs in England and Scotland. Why has it taken so long to get a UK tour under your belt?
CHAD – Well we're looking forward to playing these shows in the UK. It's the first time we've ever been over here to play our style of music and I think we're looking forward to seeing how it goes over and to playing for people who really like hard-ass rock 'n' roll.
NI ROCKS – Most British fans won't have seen you perform live. How would you describe a live performance from The Last Vegas and what do you think fans take away from the experience?
CHAD – We're kind of a brutal appreciation of everything that we grew up on as kids, which is big arena rock as well as the underground punk rock sound. We're kind of a combination of both of those I'd say and I think that's what the fans like about us. We're a little edgy and raw around the edges and at the same time try to write big songs.
NI ROCKS – You had been scheduled to tour the UK last year with Buckcherry and Hardcore Superstar and I know there were a lot of disappointed fans – us included - when you had to pull out of that tour. What were the reasons for that? – it has never really been made clear.
CHAD – When we first heard about that tour we were really stoked as it sounded like a tour that could be made in heaven. All the bands are really great and we were really excited about it. Then it started to get promoted a little bit and we got even more excited, then we found out that it was a tour that we had to pay to play on which was a little concerning for us. When we found out how much we had to pay to play we had to disengage from it completely because it was just unrealistic. If the tour ever came around again we would love to be the support act, we just don't feel that we should have to pay for it.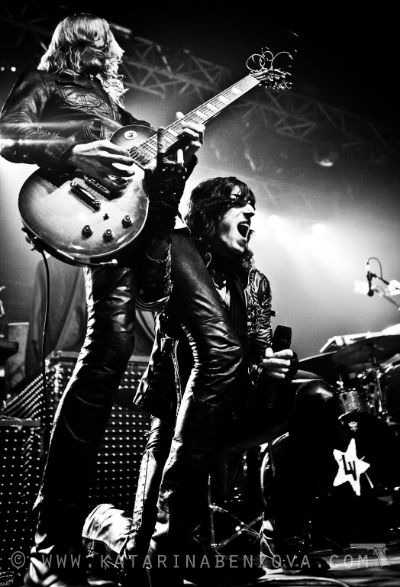 NI ROCKS – There are no Northern Ireland or indeed Irish dates on the tour this time. I presume that is just down to scheduling and not getting agreements in place with promoters and that we shouldn't rule anything out for the next tour?
CHAD – Yeah, I would hope that the next time we're here that we get a chance to play in Ireland. It's another place that we haven't played our style of music. Maybe on the next run whoever is doing the booking can get us across.
NI ROCKS – Hopefully. You've a growing fanbase here.
CHAD – I hope so.
NI ROCKS – You've supported Buckcherry on a few occasions. I'm not a fan of categorising bands or music but that does seem a great partnership. Would you see the Buckcherry and Last Vegas sound to be of a similar vein?
CHAD – I would have to say so. We're both playing the old school sound. They don't do any backing tracks and we don't do backing tracks. We've gone on the road with those guys quite a few times and we just played a show with them last weekend. It was good to see those guys again. They're a little bit of a bigger sound and maybe a bit more smoothed out. As I said earlier, we're a little rough around the edges. I think it's a good combination. We're both playing rock 'n' roll music.
NI ROCKS – The band are no strangers on the European mainland and have a great fan-base there. How would you compare the European rock scene to that in the USA?
CHAD – It's kind of like apples and oranges. There is still a lot of work to be done for us in America. But I would honestly have to say that the fan response over here is a little more brighter and a whole lot of fun. They get into the music more. I don't know why and I want to know why. It's a good feeling to come over here and have people sing along to your songs and appreciate the fact that we flew all the way over here to play our music. The response is always really positive. It's like that in America too but we just need to work on it a little bit harder in America I think.
NI ROCKS – The Last Vegas have just released their latest album "Sweet Salvation" in the USA and I think the official release date in the UK is the 2nd June. (see the NI Rocks Recommendation - http://www.rockradioni.co.uk/back-stage/music-reviews/1541-ni-rocks-recommends-qsweet-salvationq-by-the-last-vegas.html)
It was funded through a successful pledge campaign. How did you find that approach and is it an approach that you would use again in the future.
CHAD – It seemed to be a really good platform for us to interact with fans and as we know the business can get really really expensive at times. Everybody needs a little help here and there, it's not like we're making millions of dollars doing this. We're doing it because it is what comes out of us, it's a soul searching thing. To have fans that appreciate what we do, even more than I could understand, and to have them be a part of it and for them to want to be a part of it, makes this process happen. It was something I had never really heard of and didn't know anything about. Now that I understand it a little better it seems to be something that is extremely positive for fans of our music, with us interacting with them. I'd like to see how it progresses, because like I said it's really positive.
NI ROCKS – How would you compare "Sweet Salvation" to the previous release "Bad Decisions" which came out in 2012? Where was the new album recorded and who did you work with?
CHAD – We recorded all of "Bad Decisions" in Chicago at Groovemaster Studios with all of us basically writing a lot of material. We worked with a really good producer Jonny K who helped us arrange some of the tunes. But for the most part it was us doing things that we had and working with Adam Arling our guitarist who I really work with on the records for all the vocals. Spending a lot of time and drinking a lot of coffee, just hammering out songs. Groovemaster studio is in the south side of Chicago and has a really interesting view of the city. It was like our little playground for that record.
The new album was completely different. We did "Sweet Salvation" in a handful of different studios. We worked with an engineer who we had worked with before and I actually did all my vocals in Los Angeles with our producer Roy Z who lives out there. That was a good experience for me and it's a very California sounding record. You can kinda hear it on there, I was basically staring at palm trees the whole time I was singing out there.
Dim lights Embed Embed this video on your site
NI ROCKS – You released a video for the track "Come With Me" last year. The bands videos are always very creative and entertaining. Who comes up with the concepts? And are there plans for another to be recorded soon.
CHAD – The last video that we did, actually the last handful that we did, is with Whitewall Jones who has done a lot of concept work with us. He loves our band and we're all on the same page. We find it really easy to work with him and his team. I think when you find a team that works really well and you're happy with the conclusion of all the work you put into it you usually keep working with him. He's the one that did "Come With Me" and he's also the one that has worked on a video that we're going to release, I think in a week, called "You and Me" which is probably the funniest video The Last Vegas has ever done.
Dim lights Embed Embed this video on your site
NI ROCKS – Has the band given any thought to recording a live album and or DVD in the near future?
CHAD – We have countless hours of footage from countless tours and we have a lot of live recordings, but as for releasing a live record, personally I don't know if we're ready for that. I think we need to keep touring and be out there a little bit longer before we're big enough to put out a live record. I'm not like a huge fan of live records to be honest with you so I don't know if that sounds too good to me, but you never know I could change my mind later on.
NI ROCKS – You design and sell your own range of clothes – which I have to say look amazing – What is the background to that and is it something you'd like to expand? (https://www.etsy.com/shop/ChadCherryClothing)
CHAD – I started designing clothes just for myself for when the band was on stage and everybody was really into what I was doing and they wanted to buy my clothes. I eventually starting making my own clothing line of stuff that I thought was really cool and it's got quite successful for the year that I've been doing it. I'm balancing doing all the band stuff and the clothing line, but I'm definitely going to expand upon it. I spend a lot of time on it. It's interesting and it creates a buzz with everything that we're doing. Fans love it and we create new fans from it. I'm making the clothes for Ryan Roxie of the Alice Cooper band right now. One of my favourite bands so that's fun for me to do.
(Check out the interview we did with Ryan earlier this year - http://www.rockradioni.co.uk/interviews/1455-ni-rocks-interview-with-ryan-roxie-of-casablancaroxie-77alice-cooper-band.html )
NI ROCKS – Going forward, what to you see to be the main priorities for both yourself and the band over the next 12 months or so?
CHAD – I'd like to think that in the next year we'll be done touring and start working on some new music. We don't have any dates, we're still kinda excited about the new release out now and the new videos. Obviously we're going to keep doing this for a long time because we're too stupid to quit (laughs). We know what we like about our music but we're not afraid to change it. We'll just going to be following up on "Sweet Salvation", probably making a few more videos and touring all over the place.
Dim lights Embed Embed this video on your site
NI ROCKS – What kind of music do you listen to yourself? What might we find on your iPod and are there any bands that you might want to recommend to us?
CHAD – The last few months I haven't really been listening to bands, what I've been listening to, and this is going to sound funny, is this composer Penderecki whose music has been used for a lot of horror films. I do like a lot of heavy metal, I think one of my favourite bands is High on Fire, I've been listening to a lot of them.
NI ROCKS – Finally, can you remember the first album you bought and first gig that you went to?
CHAD -  My first album was a cassette tape. It was The Misfits "Earth A.D." which was a real nasty record that I loved. I still love it. Then after that I probably bought all their records. The first concert that I went to was with my mum was in Coopersville, Michigan and it was Del Shannon, who was actually from Michigan. He had a big song called "Runaway". He had a really great white suit on. I remember that. I must have been about six or seven, but I remember the show. It was pretty awesome.
NI ROCKS – Thanks Chad, for taking the time to talk to us. Best of luck with the tour and the new album.
Find out more at http://thelastvegas.com/ or  https://www.facebook.com/thelastvegas
Dim lights Embed Embed this video on your site
Check out NI Rocks on Facebook – www.facebook.com/NIRocks or Twitter - www.twitter.com/NIrelandRocks
Last Updated (Saturday, 06 September 2014 20:56)