NI ROCKS Interview with RUSTY from ELECTRIC MARY
Australian rockers Electric Mary first came to my attention around 2007 when they featured on a CD sampler from Classic Rock Magazine* . Soon after, the band were associated with the short-lived Classic Rock Magazine Powerage Records project and their second album "Down to the Bone" was re-released through that label. Since then they've released another couple of EPs and their third album and have embarked on a number of tours, including two in the UK. Having heard quite a few reports of how good they are live I've been hoping to see them perform for some time. That opportunity finally comes on Friday 7th November when Electric Mary kick off a European tour in the Diamond Rock Club, Ahoghill. That show comes just a few days after the UK release of their latest EP "The Last Great Hope".
We contacted lead singer Rusty Brown to see if we could arrange an interview before their arrival and he was good enough to answer a few questions put to him via e-mail.
NI ROCKS – Thanks for taking a few minutes to answer some questions for Rock Radio NI. You're playing a gig in the Diamond Rock Club in Ahoghill on 7th November. Would I be right in thinking that this will be your first trip over to N Ireland?
RUSTY – Yes our very first trip and we are hanging out for our time in NI .. we'll have four days rehearsals visiting pubs taking in the sights and playing some dirty ROCK & ROLL
NI ROCKS – I know a few people who have seen you on tour in the UK or even out in Australia and have raved about what a great live band you are. How would describe an Electric Mary gig?
RUSTY – Mental .. loud .. heavy .. lots of swagger .. and if it's not someone will pay ;)
NI ROCKS – The Diamond Rock Club gig is the first date on a month long tour that takes in the UK, Spain and France. Are those fairly established stomping grounds for you now after a few European tours?
Are there other countries that you'd particularly like to get playing in?
RUSTY – France and Spain houses most of fans as that's where we have spent the most time .. it will be our second time to the UK and being Australian I felt at home as we were built by the Irish the English and the Scottish.
Personally I don't care where it is we are playing as long as the band and the crowd become one for that show.
NI ROCKS – The UK tour takes in another appearance at the Hard Rock Hell Festival. Is that one of the highlights for you and what are your memories of the previous appearance in 2012?
RUSTY – Yeah, a great moment. It was our second last show of the tour and no one knew who we were. The sound guy was reading a newspaper throughout our line check, once we started he quickly put it down and worked his ass off, I think between the two of us we created a sound that won over quite a few new friends to the Mary sound.
NI ROCKS – Your latest EP "The Last Great Hope" was released in Australia in August and gets a UK release on 3rd November just ahead of the gig in the Diamond Rock Club. It's been about two years since the previous EP "From The Vault" in 2012 and three since the album "III" was released.  Is there a timeframe for the release of the fourth album?
RUSTY - No time frames. With the Mary's I found it pointless so anywhere between the 1st of January and the 31st of December of any year .. if I said June is that ok ? ;)
NI ROCKS – How would you compare the new material with that which would have been on the album "III"?
RUSTY – This one is a lot bluesier .. the style we plays lends itself to many variations of Blues rock .. some times it's heavier sometimes it's bluesier .. sometimes it's punky. Whatever we are feeling at the time.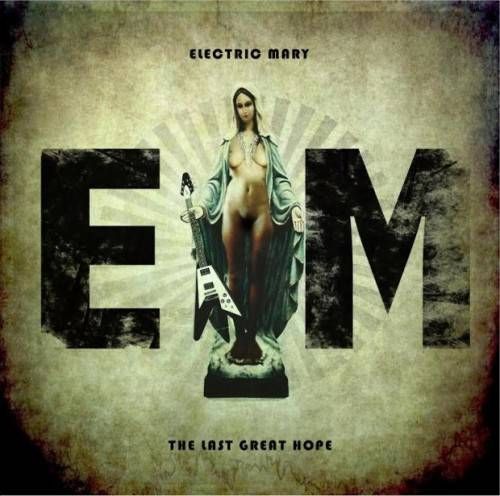 NI ROCKS – What were the bands main influences musically when you first got together and what is influencing you now?
RUSTY – DEEP PURPLE for me, anything 60's and 70's from heavy to blues to even some dare I say it POP. Pete loves Quo .. Alex loves Metallica .. that''s pretty much what runs thru our DNA
NI ROCKS – There are a couple of questions that I always like to ask in interviews.
Firstly, can you remember the first album you bought and first gig that you went to?
RUSTY – "AXIS: BOLD AS LOVE" (Jimi Hendrix Experience).. "If 6 Was 9" is F KING amazing .. Black Sabbath  - Festival Hall .. Geeza Butler .. I am originally a bass player.
NI ROCKS – Secondly, to get an idea of the kinda music you listen to yourself. If I was to get your iPod or whatever and hit 'shuffle' what five artists might we hear?
RUSTY - Deep Purple .. Tom Petty .. Rival Sons .. Queen .. Free .. Rainbow .. Cheap Trick .. I never could count
NI ROCKS – Following the European tour in November, you've a few gigs lined up back home in Australia during December. Heading into 2015 are there any confirmed plans for Electric Mary?
RUSTY – We definitely plan to return to Europe in June .. release a new record and play the ass out of any gig that's put in front of us.
NI ROCKS – What would you hope to have achieved with the band by the end of 2015?
RUSTY – Another tour of Europe, record a new Record .. get to as many people as we can in as many countries that will let us.
NI ROCKS – Thanks again for taking the time to answer our questions. We're looking forward to catching you live for the first time in the Diamond Rock Club on 7thNovember.
Dim lights Embed Embed this video on your site
* "Sons of Guns II" in Classic Rock Magazine Issue number 107 featured "Let Me Out" from the 2006 "Definition of Insanity" EP
For more information on Electric Mary, links to all their social media pages etc check out http://electricmary.com/
Check out NI Rocks on Facebook – www.facebook.com/NIRocks or Twitter - www.twitter.com/NIrelandRocks
Last Updated (Wednesday, 15 October 2014 21:59)