NI ROCKS Interview with VERONICA "THE V" FREEMAN
Veronica Freeman aka "The V" will be known to many as the lead singer of Benedictum, however she has just released her first solo album through Frontiers Records called "Now or Never". I'd arranged to speak to The V about her new album whilst she was in the UK recently but circumstances led to it being rescheduled and we'd arranged to chat via Skype on 6th July; only for technical issues to force a change to the traditional phone interview. So, my thanks to The V for making sure we got the interview recorded and for providing a few laughs along the way! The interview was broadcast on The Friday NI Rocks Show on 10th July and is now available on our MixCloud page -
Interview with Veronica "The V" Freeman on the Friday NI Rocks Show 10th July 2015 by Nirocks on Mixcloud
NI ROCKS – Hi Veronica. Thanks for taking some time out of your schedule to talk to Rock Radio NI. Most people will know you of course as lead singer of the band Benedictum, but you're just about to release you first solo album called "Now or Never". You were over in the UK last week on a trip. What was the reason for the visit on this occasion – was it band related or solo or both?
THE V - A little bit of everything. I was over there originally... gosh, it started off as one thing then morphed into something else, as usually happens in my life. I was going to be playing the Wildfire Festival in Scotland and had some people who were going to be backing me, but it didn't quite work out. So I also had the chance to do the Garage Dayz Re-visited Festival in London and had a chance to play with the Tygers of Pan Tang which was awesome, and kinda hosted that for part of the show. I had a blast. I also did a recording with Deep Machine which was fun and had a chance to check out the beautiful countryside. I loved being there and had a wonderful time. It was kind of a whirlwind and I wasn't ready to come home, but here I am!
NI ROCKS – You've been fronting bands for twenty years, including Benedictum for the past ten years. What made the time right now to record a solo album?
THE V – You know, I've been asked to do that stuff for a while. People asking when I was going to do something a little more melodic. It just worked out. A couple of people from Frontiers happened to be in Los Angeles and I drove out to meet them and they made the proposition for a solo album. It's went through quite a few changes but I'm really glad that I did it now because it has gave me a chance to stretch my abilities and see what I can do.
NI ROCKS – I read that your Benedictum band-mates were involved in the solo album as well. What input did they have?
THE V – Yeah, I wouldn't have it any other way. I'm very, very loyal as a person and I knew it wasn't causing a problem, but I wasn't sure how everyone was going to take it. At least for the bed tracks and everything starting out, Aric is on it, Rikard did all the bed tracks for the drums on the first round of things and Pete's guitars. Pete and I have had stuff that we've been writing over the years that was a lot more melodic and wouldn't fit properly for a Benedictum record. We always joked about how cool it would be one day to actually play this stuff and it worked out really well. At first Frontiers wanted me to do it a certain way and they were going to provide the music, but I wanted to have more artistic control, so it worked out well to have a little arsenal of songs. So about half of the songs are tracks that Pete and I had written and we picked some songs from other artists and it went from there.
NI ROCKS – I know Jeff Pilson was heavily involved in the first two Benedictum albums and I see his name mentioned in the credits on "Now or Never". How did the relationship with Jeff get established and what has he contributed to the new album?
THE V – You know Jeff has been involved with almost everything that I do in one form or another. I don't think there's an album where he hasn't had his influence on it. He was the producer of the first two albums "Uncreation" (2006) and "Seasons of Tragedy" (2008) and we did a duet, well not so much a duet as a version of "Catch The Rainbow" as a bonus track, I think it was on the "Dominion" album (2011) [Actually on the CD version of "Seasons of Tragedy"]. Whenever I get stuck or need some writing ideas or how I should better approach it, he has always been there. I knew I wanted an arsenal of people on this record, so it was only natural for me to reach out to him and he was kind enough to do so.
NI ROCKS – I'm going to play a track from the album now. I'll let you pick one and tell us a little about it.
THE V – Oh, let's go with "King For A Day" because I really like that one. That was a duet between Tony Martin and I and it was actually a song that I wanted to have on the last Benedictum album, but Tony had opted for the song "Cry" which Pete had written. But I had this song in the back of my mind and knew I really wanted to do it, so I was really happy that I got this chance to get it done and get it on the record.
NI ROCKS – Another high profile contributor to the album was Michael Sweet from Stryper who wrote and produced two of the tracks. Had you worked with Michael before and does he contribute to the album in any other way?
THE V – That was a big turning point for this record because what had happened was that there was a lot of stuff recorded and there were some changes I wanted to make. To make a long story short, there was a delay in the release date to give me some time to make the changes that I wanted to make. During that time when I was trying to affect some of those changes, a friend of mine called Kenny Lewis over at Mixed Emotion Studios mentioned that he knew Michael Sweet and that he was going to see if he would be interested in working with me. He played him some of my stuff and yeah, three days later Stryper were playing here in Phoenix and I had a chance to meet him. I went backstage, shook hands and he says you know what I will write two songs for you, I will play on them and produce them, you need to come out to Boston and let me do my thing, you're not going to hear them ahead of time – which really freaked me out – and that's exactly what happened. (Laughs). I was a hot mess as they say. I was so nervous first of all. I didn't really know him, never recorded with him, saw how when they were doing the rhythm tracks and everything that he was a task-master! I was like "Oh My God!" and went to buy a big old box of Kleenex and you better believe I was using it (Laughs). I was crying my eyes out, but I got it done and learnt a lot from working with him. He is a great guy, I don't want you to think the wrong thing. But it was very difficult to not have a chance to really settle with the music; you want to feel comfortable with what you're doing, and I didn't because I just heard everything the night before, I mean lyrics and everything. It was gnarly, but it was a great experience, it really was.
NI ROCKS – They're great tracks on the album.
THE V – Thank you, do you like it?
NI ROCKS – I do, I love it. I played a track on the Show last week and will be playing more along with the interview of course.
THE V – You better play a lot of it! (Laughs)
NI ROCKS – I will. There's a review online too. (http://www.rockradioni.co.uk/back-stage/music-reviews/2085-ni-rocks-recommends-qnow-or-neverq-by-veronica-qthe-vq-freeman.html )
NI ROCKS – Where was the album actually recorded and who did you work with in the studio? Obviously, apart from Michael.
THE V – That was part of the, I don't want to say problems, but issues that had come up originally. The vocals, with the exception of "King For A Day" and the Michael Sweet stuff, were recorded here in Chandler, Arizona and the producer was John Herrera. Then we recorded some tracks as you know in Boston at Spirit House Studios. Then we had to bring everything together so that it sounded cohesive. I didn't get the chance to work in the studio with everybody like I would have liked to but that is just how it goes these days.
ROCKS – Are there any plans to tour as a solo artist to promote the album?
THE V – Yes, I'm working on that now. There's quite a lot of stuff buzzing around and I can't say anything yet but it looks like my first festival as The V will be sometime in March and it'll be in the UK. I'm excited about that and will be able to officially handle that very soon and will let you know as soon as I find out for sure. (It was confirmed that this appearance would be at the Hard Rock Hell AOR Festival in North Wales in March 2016).
NI ROCKS – Metal fans can sometimes be quite an opinionated bunch. Have you had much feedback from the die-hard Benedictum fans yet or do you expect much?
THE V – I've had a lot of feedback. I've only had one person say "well I like the other stuff a lot better". I didn't quite know what to expect. I know there was a group of people who were always curious as to whether or not I could do something different, if that makes sense, and a lot of those were Benedictum fans. So when this came out I think, especially after the involvement of Michael Sweet and getting more of an idea of the vibe I wanted for the overall album, I think now it suits me a little bit better and I'm happy with it and fans seem to be. I'm getting a lot of positive feedback and the reviews are really great, so you better give me a good one (laughs).
NI ROCKS – Oh we will. We already posted one, but there'll be another too. (http://www.rockradioni.co.uk/news/blogs/belfast-metalheads-reunited/2066-album-review-veronica-freeman-attracts-star-studded-line-up-for-her-release-as-the-v.html )
NI ROCKS – I know it's very early days, but what are the prospects for a second solo album at some stage?
THE V – Well it's going to depend on Frontiers and also how things go with this one. So far so good. I'd really love to do another. If that doesn't happen I'd probably do one anyway because I think now that I've found my stride with this, I want to see what it leads to. But let s get through this one first.
NI ROCKS – At this point we're going to play another track from your solo album "Now or Never". Again you get to choose one and tell us a little about it.
THE V – Lets do "Again" which was with Michael Sweet and I was quite tortured (laughs).
Dim lights Embed Embed this video on your site
NI ROCKS – The last Benedictum album was released through Frontiers at the end of 2013. Has work commenced on the band's fifth album and what kind of timescale are we looking at?
THE V – Work has not commenced on that and to be completely honest I'm not sure what is going to happen there. My plan is not just to have The V band; I want to make a conglomerate of all the music because there are four albums of some really cool Benedictum stuff and that has been my baby so to speak. I don't want to not play those songs, so if there could be a show put together that would have a mixture of The V stuff, some Benedictum and maybe some covers I'd like to do that. As far as a Benedictum album, I haven't started writing that yet. I'm just through an extremely long process with this one, so I want to focus on one thing at a time. If I can bring it together to where it is like a Benedictum / The V thing then I'm cool with that too, because that is music that I love. We'll just have to see how it all falls out.
NI ROCKS – Benedictum were initially signed to Spanish label Locomotive for the first two albums and then to Italian based Frontiers for the last two albums. Is that a reflection of differences in the market in the US and Europe or just by chance?
THE V – To be real honest, the Spanish label went under from my understanding and we were left without a label. At that time people were just starting to do their own albums without one, but hoped to get another deal and we did with Frontiers. Now their business model is a little bit different than what Locomotive's was, but they've been pretty good to us. With "Dominion" I know they wanted something a little more melodic, but I really like "Dominion" a lot because it was a little bit of a departure and trying something a little bit different. We'll see what the future holds with Frontiers and Benedictum, but I don't know if they're going to want to do another Benedictum album but we'll still carry on. It's been cool; they've been really good to me for the most part.
NI ROCKS – What plans do you have for the remainder of 2015? Are we likely to see you back in the UK this year? You mentioned the festival next year.
THE V – That's exactly what I want to do. You're a mind reader. What I would really like to do is get back over there this year. Part of what I was trying to do is form a European band or band in the UK so that it would just be me going back and forth rather than have the logistics of getting an entire band back and forth. So I want to do that and I also want to get back because I absolutely love it there and there might be the possibility of doing some shows around October time. That's my plan for 2015 – to start playing this stuff live because I haven't done it yet. Putting together the pieces to make that happen.
NI ROCKS – Finally, before we play another track.  What music have you been listening to yourself recently. Anything that you'd recommend we check out?
THE V – You know what! Anything but this! (Laughs). It's been an absolute major part of my life for a year and a half or so. I listen to everything from rock to metal and big bands to country. Whatever music inspires me at the moment. For me there's a different energy for different types of music and where I'm at with stuff. I play the music that will push me through whatever I'm going through.
NI ROCKS – I'm going to finish with another track from your solo album and then something by Benedictum. Would you like to pick those for me and tell us something about them.
THE V – Oh, you're going to pick something this time honey!
NI ROCKS – Ok, I'll play something from both albums.   Thanks very much for taking the time to talk to us. All the best with the new album and everything that is coming up.
THE V – Thank you so much.
Check out http://www.veronicafreeman.com/
Playlist
SCREAMING EAGLES – Save Me
THE V – Line In The Sand
Veronica "The V" Freeman Interview Part 1 (4.5min)
THE V – King For A Day
Veronica "The V" Freeman Interview Part 2 (5.5min)
THE V – Again
Veronica "The V" Freeman Interview Part 3 (4min)
THE V – Love Should Be To Blame
BENEDICTUM – Obey
GASOLINE OUTLAWS – Nothing On Me
TRUCKER DIABLO – Fight Life
SHINEDOWN – Cut The Cord
HOLLOW HAZE – An Ancient Story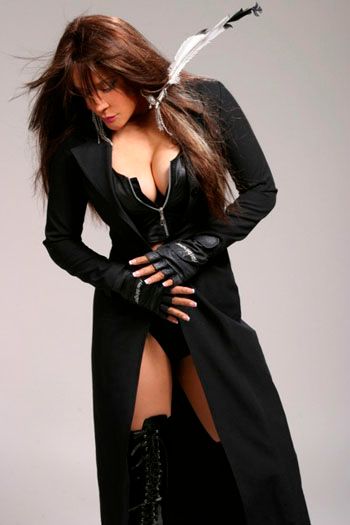 Last Updated (Saturday, 12 September 2015 11:21)