NI ROCKS Interview with GRAINNE DUFFY
County Monaghan singer-songwriter / guitarist Grainne Duffy has built up a considerable fan-base in Europe and beyond over the last few years with a heavy touring schedule and two studio albums under her belt. I spoke to her on 6th August via Skype to talk to her about her new live album which is officially released in September (but available now from her website), her upcoming shows supporting Mr Big frontman Eric Martin in Belfast and Dublin, a new studio album and a few other things.  We also play four tracks from the new live album. The interview and tracks were includedon the Friday NI Rocks Show initially broadcast on 14th August. This broadcast is now available via the MixCloud site -
Interview with Grainne Duffy on the Friday NI Rocks Show 14th Aug 2015 by Nirocks on Mixcloud
To hear the tracks from the album that Grainne selected you'll need to listen to the Show. I've included some videos of other tracks in the transcript below.
Check out http://grainneduffy.com/ to order the album and for tour information.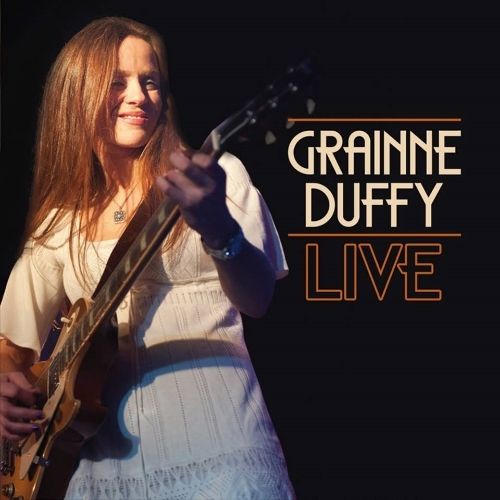 NI ROCKS – Hi Grainne, thanks for taking some time to talk to Rock Radio NI.
We've a couple of key things we wanted to ask about, namely the new live album and the upcoming gigs with Eric Martin from Mr Big, but I'm sure we'll cover a few other things too.
First up, you've announced that there should be a live album released in September. Can you confirm when that will be available and tell us where and when it was recorded?
GRAINNE – The good news is that it should be available as a special offer pre-release by tomorrow, the 7th August. That will be a special pre-release price as it's not being released officially until mid September. That date will go up on my Facebook and the website in September. But it'll be available as a special offer at a cheaper price for the die-hard fans.
It's a live album and was recorded around October – November time during our Germany tour. It took place over two shows in Germany and basically is a mix of older songs from my first and second albums and other songs that we've been playing for the last three or four years.
NI ROCKS – That's great. You've kinda covered my next question – it's a mix of tracks from your two studio albums and new material then? Any covers in there too?
GRAINNE – There is. The infamous cover "I'd Rather Go Blind" is in there too. That's the only cover we have included on it.
(Note - There are a total of 15 tracks on the album.)
NI ROCKS – I think both your previous studio albums were self released. Will that be the case with the live album too?
GRAINNE – The live album is actually released with myself and a music partner in Germany, so no this is one that will be going out on that label (m2 music).
NI ROCKS – I've two questions where the answer might overlap a little, so I'll roll them into one. The debut album "Out of the Dark" was released in 2008 and the follow up "Test of Time" at the end of 2011 / early 2012 so we're overdue another studio album. Why was the decision made to release a live album now and when might we see that third studio album?
GRAINNE – Well, we took the decision to release the live album because we've been on the road so much that it's hard to get into the studio. It has been a pretty chaotic last couple of years touring and playing. We felt that we'd become something else live and on the road and when fans came to see us they said they liked the live sound, which is different to the recorded sound. So we kinda met the fans request, but it was also something that we wanted to do ourselves as we felt that we'd come to a peak for a live album playing tracks from those first two albums - songs that we've been playing from "Out of the Dark" and "Test of Time" albums. We decided that we'd release this album and it just came at the right time.
The next studio album, we're going to be recording very soon. We're playing tracks from it on tour and it is due for release hopefully in Spring 2016.
NI ROCKS – We're going to play a track from the new live album now.
Which one would you like to play?
GRAINNE – We could start off by playing something that has a bit of punch and raw energy. Something like "Let Me In" is a good starter for how we sound rockin live.
Dim lights Embed Embed this video on your site
NI ROCKS – You're playing in Armagh this Saturday 8th August and then at the Woodstock Festival on Sunday 16th August. Following that you have two dates supporting Mr Big frontman Eric Martin in Belfast on 27th August and Dublin on 28th.  How did those come about?
GRAINNE – We've been doing the festivals in Armagh and Woodstock for the past few years and it's nice to go back and play festivals where you've been well supported and there is a local fan base. We're doing those again because we've always had a lovely, warm welcome and we enjoy playing there. The Woodstock Festival is one that we've been doing for a long time and it has a warm place in my heart because the guys who run it are just absolutely great guys and really work hard to keep the Festival at a high standard. I've really got a lot of time for them, with all the hard work they've done.
The two shows with Eric Martin came about through SD Entertainment; Ciaran got in touch with me. He was bringing over Eric and wanted someone to do warm up so he rang me and asked me to do both shows. Obviously I think Eric is a great singer, so I was delighted to do it.  That's how that came about. I suppose just from gigging and being on the scene.
NI ROCKS – You haven't worked with Eric before I presume.
GRAINNE – No. Actually, I just got an e-mail from him last night to say he was looking forward to doing the shows and that he was just heading over the water now. That was a lovely introduction to each other and I e-mailed him back to say I was looking forward to playing the shows with him. He's a great guy I'm really looking forward to it.
NI ROCKS – You've been fortunate enough to get to play in many countries. You were in Canada recently and next month you have festivals in Morocco and Norway. How much of the country do you get to see usually and have you a favourite international place to play?
GRAINNE – Sometimes you fly in and fly out and you don't get to see very much. You get to see the stage and the road to the stage. You get off stage and it's dark and you go to your hotel room and fly out the next morning. It's all go. Other times it can be part of a tour, like Germany last year, where you're travelling through the country and get to see it all. You'd see all the clubs and theatres, but you might get a day off in between shows and you'd get a chance to see around Berlin or something like that, which is great. But usually when you're doing festivals you're flying in and flying out so you don't get to see very much. But we've been very lucky with the Morocco festival (The Tanjazz Festival in Tangier), where we're going to stay three or four extra days because the artists have been asked to stay around for the closing ceremonies and they're going to look after us. So we're really looking forward to that and to seeing a bit of the African culture and soak-up Morocco.
We've played some great places. We were lucky enough to play in the Arctic Circle at Svalbard, near the North Pole. That's one amazing place to play. It's a completely different eco-climate to here and to see that kind of lifestyle where they can live in the snow and with the dark seasons. It was just going into the dark seasons when we were there and it was a whole completely different way of life. Places like that are amazing. I'm a huge nature lover so I love going places that are in the depth of nature and you can really switch off. Those places are beautiful. It was great to do the Tremblant International Blues Festival and experience the Canadian lifestyle and play somewhere like that. Especially with blues, rock and roots music coming together. Irish people brought music across there and we've learnt a lot from their side as well. It's great to go somewhere where there is a heritage of that music too.
I love playing cities and rural places, but I suppose it is unique when you go to places like Svalbard and places like that, though we've been lucky enough to do great festivals like Glastonbury and that's in the heartland of the UK countryside. I think it just depends on your head and your mood and where you're at; if you're enjoying being on the road and things like that.
NI ROCKS – Talking about flying in and out, I noticed that the festival in Norway (Orland Blues Festival) is squeezed right in the middle of your UK tour. You're playing the UK one night, then Norway the next and then back in the UK the following night.
GRAINNE – That's right, that's going to be a whistle stop and we've to stop-over in Copenhagen. We'll be whipping around the planet quickly alright. But it's all got to be done, and if it all goes to plan we'll be tired but fulfilled after that.
NI ROCKS – The UK tour I take it is to support the new album?
GRAINNE – That's right. The next UK tour will support the live album and then early next year we'll be supporting the next studio record.  We're going to be in the UK for about two weeks and then we go straight to France to do a week there and then home for a week. Then we go over to Germany for about two and a half weeks and come home through France for some more shows. So we're basically out from early September through to mid November.
(Check out all the tour dates here - http://grainneduffy.com/tour/ )
NI ROCKS – I follow you on Facebook and stuff and you do seem to be constantly on the go.
GRAINNE – (laughs) I'm very bad at sitting still and like to be on the go. When you're full of beans and lucky enough to be in good health and want to be on the road and your mind is the right place, I say why not do it. Maybe there will be other times when you want to focus on downtime or writing. It's a case of making hay while the sun shines.
NI ROCKS – I think we'll play another track from the album now. Do you want to pick another?
GRAINNE – Yeah, why don't we do something a little more laid back which brings out the softer side. We could play "Bring It All Together" or "Waiting For You"; one of those two, I'll leave it up to you.
Dim lights Embed Embed this video on your site
NI ROCKS – You've mentioned in interviews that you were a fan of Thin Lizzy as well as loving Rory Gallagher and the more traditional blues influences. Somewhere in my music collection I have a recording of you covering Thin Lizzy's "Southbound". Was that recorded specifically for Classic Rock Magazine?
GRAINNE – That's right. Classic Rock Magazine got in touch and asked if I would do a recording of "Southbound" because they were doing a special issue on the year that the song was recorded. They asked that as we were an Irish band that we do an Irish song, so we covered Thin Lizzy. We were delighted and jumped at the opportunity. It was a challenge. When you respect a band and love the way Phil sings and delivers a song, and we love Thin Lizzy the band, it was like I really want to do this but I'm really nervous too.  I think we did a fine version of it, but it's a difficult one to nail. I was delighted to do it, but I think it's one of those songs where Phil does it the best justice to be honest.
NI ROCKS – Had you picked that particular track from the album ("Bad Reputation" released in 1977) or did they ask you?
GRAINNE – We were allowed to pick any track from the album and when we listened to it to get the female perspective and the softer side, we picked that one because we thought it was maybe more of a melodic song for a female singer to do.
NI ROCKS – I've seen you mention in various interviews that your influences include BB King, Eric Clapton and Peter Green. Do you think that has remained constant over time or are there predominant influences at certain times?
GRAINNE – Those are your classic players. You can never fall out of love with The Beatles and The Stones and those kind of bands. It's the same with those players, Eric Clapton, Peter Green and BB King. They're like your roots and your tree won't grow if you haven't good roots. To be honest they're the best roots you can have, because they have that depth in their playing and it's all about the song and the melody. Those players will last the tests of time. Their music is timeless and for me their playing is timeless and they'll always be with me.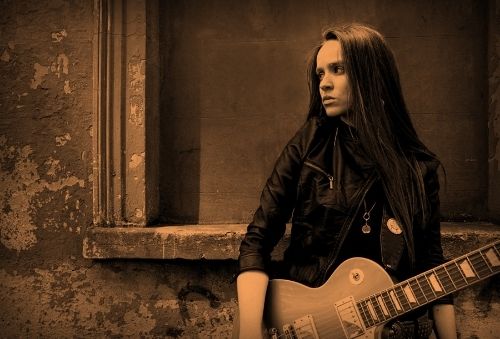 NI ROCKS – What artists do you find yourself listening to now?
GRAINNE – That's a good question, because I've been trying to open my ears and listen to as much as I can. I've been listening to everything – blues, soul, hip hop, rock - everything I can get my hands on. I like the new Alabama Shakes record, then other days I'm listening to really old records like Woody Guthrie, Willie Nelson and even stuff like Waylon Jennings and old country stuff. Then I'd be listening to Muddy Waters records and I've also been listening recently to Gary Clark Jr, some of the stuff he has been doing. I've just went through a phase of listening to Amy Winehouse's "Back to Black" record. And I still listen to things like Carole King and people like that. In terms of new music I like what The Black Keys are doing and those kind of contemporary blues.
NI ROCKS – I read somewhere that your first band was with your sisters. Are any of them still involved in the music business?
GRAINNE – That's correct, I was in a band with my sisters in my teenage years. It was good fun and a good training ground. My sisters don't play music anymore. They've got wise (laughs) and left it all behind.
NI ROCKS – You've played Fender and Gibson guitars at various times. How many guitars would you routinely take out on the road and what are they?
GRAINNE – Most of the time at the minute we're bringing out the Gibson Les Paul of course and I have an acoustic guitar for doing the slower, ballady stuff. We also bring a spare guitar. Paul plays a Strat and we usually bring a Telecaster or a second Gibson Les Paul with us.
NI ROCKS – Final question. We've talked about the new live album, gigs and the new studio album early next year. Looking further down the line what would you hope to have accomplished by this time next year?
GRAINNE – My real big aim is to have the album out, sounding the way I want it to sound, and to do as much promotion for it as we can. I'd like to be playing all the places we've been playing, but to expand and maybe play some shows in the USA as I've never played there before and maybe down under in Australia and places like that. But mostly I'd just like to get my head stuck into the next record and develop my song-writing side, expand the fan base and be playing the new record and be really happy with it. That's where I'd like to be at next year.
NI ROCKS – Will the new album be with the German company or another self release?
GRAINNE – At the minute that is undecided. We'll cross that bridge when we come to it. There will be discussions, but I'd like to wait until we have most of the album done.
NI ROCKS – Thanks again for talking to Rock Radio NI. We'll finish off with another track. Which one should we close with?
GRAINNE - Thank-you. There's a new song on the album called "What Am I Supposed To Do" and it'll give people a taste of what is to come.
Dim lights Embed Embed this video on your site
Playlist for Friday NI Rocks Show on 14th Aug
GASOLINE OUTLAWS – Someday
THE V – Love Should Be To Blame
MARK SLAUGHTER – The Real Thing
GRAINNE DUFFY – Rockin Rollin Stone (Live)
Interview with Grainne Duffy Part 1 (3 min)
GRAINNE DUFFY – Let Me In (Live)
Interview with Grainne Duffy Part 2 (6 min)
GRAINNE DUFFY – Waiting For You (Live)
Interview with Grainne Duffy Part 3 (6 min)
GRAINNE DUFFY – What Am I Supposed To Do (Live)
TOM KEIFER – Solid Ground
NO HOT ASHES – Boulders
VEGA – Gonna Need Some Love Tonight
SHADOW TRAIN – Fallen
MILLION DOLLAR RELOAD – Goodnight New York
MILLION DOLLAR RELOAD – The Last Icon
Dim lights Embed Embed this video on your site
Check out NI Rocks on Facebook – www.facebook.com/NIRocks or Twitter - www.twitter.com/NIrelandRocks
Last Updated (Sunday, 25 October 2015 03:02)