Distortion Project Announce "Rock The Hall"
The Distortion Project, in Conjunction with Belfast Music Week presents DP13 – Rock the Hall!

The Distortion Project, as part of Belfast Music Week is incredibly proud to present this landmark showcase gig to celebrate our 13th anniversary. This is a one off, never to be repeated show highlighting the absolute best in Northern Irish Metal, and we are delighted to be able to host this event in the incredible surroundings of the Ulster Hall, Bedford Street, Belfast. The bands on this bill show the wealth of talent on offer in Northern Ireland, and they encompass the many and varied styles of metal that are around today. All the acts on show are at the top of their game, and the unique opportunity to gather this array of talent, and put them into a setting of this magnitude cannot be overstated. Such is the burgeoning, healthy and vibrant Heavy Metal scene in Northern Ireland, it was incredibly difficult to limit the line up to these 6 fine acts. As well as these bands, there will be merch stalls from local record labels, and a surprise special guest which will be announced shortly!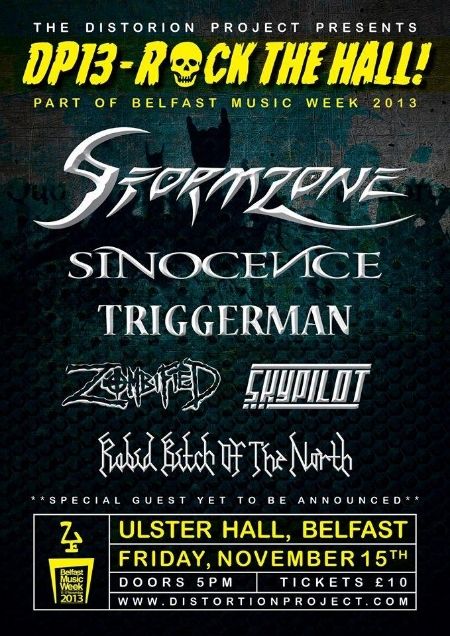 The Distortion Project has been promoting local rock and metal acts via our weekly showcase rocKD gigs in The Limelight 2 for the last 13 years, as well as hundreds of other local and international concerts during that time. We've brought some of the biggest and best metal acts to these shores during that time, including the likes of WASP, Ministry, Anthrax, Entombed, Orange Goblin, Prong, Amon Amarth, Exodus, Diamond Head and many, many others. We've also had our own record label, radio show, and have booked and managed tours for the more established Northern Irish metal acts, across the UK and Europe. The Distortion Project has been at the forefront of the Northern Irish Metal scene since its inception, so what better way to celebrate our 13th birthday than with this unique, amazing and wholly jaw-dropping live experience? The details for this fine event are: 


The Distortion Project, in Conjunction with Belfast Music Week presents DP13 – Rock the Hall! Featuring: 

STORMZONE
SINOCENCE
TRIGGERMAN
SKYPILOT
ZOMBIFIED
RABID BITCH OF THE NORTH. 
**SPECIAL GUEST TO BE ANNOUNCED**

FRIDAY 15TH NOVEMBER 2013 
THE ULSTER HALL, BEDFORD STREET, BELFAST
DOORS 5PM - Age restriction: 16+

Tickets now on sale from the Ulster Hall Box Office, Waterfront Hall and online at www.ulsterhall.co.uk or phone 028 9033 4455.
Available from Ticketmaster soon.

www.thedistortionproject.com
https://www.facebook.com/events/733572576658282/733655649983308/
Dim lights Embed Embed this video on your site
Dim lights Embed Embed this video on your site
Dim lights Embed Embed this video on your site
Last Updated (Wednesday, 23 October 2013 18:22)