NI ROCKS Interview with CHRIS APPLETON (ABSOLVA)
Chris Appleton is best known as the lead vocalist and guitarist in Absolva, and prior to that in Fury UK. However, on 2nd February he releases a solo acoustic album entitled "Restless" through Rocksector Records. I spoke to Chris about the new record, Absolva, upcoming tours and his continuing involvement in the Blaze Bayley Band. He also picked three tracks from "Restless" to play on the Friday NI Rocks Show that was originally broadcast on 23rd January. This show is now available via our MixCloud site.
Interview with Chris Appleton from Absolva on the Friday NI Rocks Show 23rd Jan 2015 by Nirocks on Mixcloud
The interview has been transcribed and is posted below.
NI ROCKS – Hi Chris. Thanks for taking some time to talk to Rock Radio NI. You're best known as the lead vocalist and guitarist in Absolva and before that Fury UK. Your next release on 2nd February however is something a little different. "Restless" is a solo acoustic album.
Can you tell us where the idea for doing the album came from?
CHRIS – It's sort of in the title really. It was during our last European tour when I had a few days off and had a little studio time available to me. I decided to write some acoustic tracks which eventually turned into an album. Usually in January and February we have complete time off. Some of the lads go on holiday or whatever and just chill. That's about the time that I'm usually pulling my hair out because I'm bored and can't find something to do. I'm just biting my finger nails because I'm not on tour. So I decided to record this acoustic album and get some dates together and keep myself busy in January and February. So it's in the title really – restless.
NI ROCKS – Had you material written before that or did you just sit down and start to write. Obviously some are older tracks, but the newer ones?
CHRIS – Yeah, it's got three brand new tracks and it's got a Fury UK song and an Absolva song that I've done acoustic versions of. And it's got an Ozzy Osbourne cover – "Mama I'm Coming Home" – and it's got an instrumental track which has got a Joe Satriani influence. So it's a good mix.
NI ROCKS – Who has worked with you on the album and where was it recorded?
CHRIS – I've got my good friend Wizz Wizzard from Belgium. He did some guest vocals for me. My brother Luke, who was playing bass on the last Absolva tour, so he was in Europe with us. He wrote a couple of songs and played on there. It was recorded near Aalter in Belgium. That's where we keep our Absolva base when we've got a couple of days off or something mid-week in between shows. It was nice and local to where we were staying. A guy called Bart Wyns was the co-producer with us and he's a very good friend. He's got a great little studio there so it was a nice relaxed vibe.
NI ROCKS – We're going to play three tracks from the album that you've chosen. What is the first of those tracks and can you tell us a little bit about it?
CHRIS – We'll go for "No Tomorrow", which again it's in the title really. It's about living for today and not getting caught up in what's happened yesterday or what is in the past and not worrying about what's happening tomorrow, just living for the present.
NI ROCKS – Is that the first single? You've just released a video for it.
CHRIS – That's the one yeah.
Dim lights Embed Embed this video on your site
NI ROCKS – You've a series of acoustic shows coming up to promote "Restless". Who'll be accompanying you on that tour and where will it take you to?
CHRIS – This first tour is really just to see how things go. It's a wee bit of a test. The UK shows that we're doing are all very local to where we're based in Manchester, so it's all the North West area (Jan 28th – Whittles, Oldham; Jan 29th – Grand Central, Manchester; Jan 30th – Fox & Goose, Southport; Jan 31st – Snooty Fox, Wakefield; Feb 1st – The Towler, Bury). Luke and Wizz are going to be accompanying me on the tour. And Wizz managed to book about 4 shows in Europe. We're just testing the water. He's booked a couple of shows in Belgium, one in Holland and one in France close to where we get off the ferry (Feb 5th – Manuscript, Oostende; Feb 6th – Blue Devils Bar, Arras; Feb 7th – Café Elpee, Deinze; Feb 8th – Rock Café Bone, Haarlem.)
We've all taken the decision that we're going to do it, not as a bit of fun, but we're going to enjoy ourselves. If it's a success then we're going to look at doing a lot more dates later on in the year or at a similar time next year in a more extensive tour. At the moment we're really enjoying it. I've had a great response from everyone for doing it. It's quite weird. I was talking to a couple of people last night and I said it's weird I've spent years trying to perfect the art of being a British metal band and being full on metal and getting the production right. Then I spend a couple of weeks throwing an acoustic album together that I'm very proud of and everyone is going bonkers over it.
NI ROCKS – It's a great album! Have you ever done acoustic shows like these in the past? On your own or with the band.
CHRIS – Very, very few. I actually guested on Wizz's acoustic album and did a couple of shows with him when he was over in the UK. Absolva did an acoustic show as a filler show when we were over in Belgium. I think the first time we did anything acoustic was back when we were in Fury UK and we were supporting Saxon. The guys from the Saxon forum were putting on a big charity event in the afternoon before we played Shepherd's Bush Empire in London in the evening. It was a big Help for Heroes type thing. Fury UK did an acoustic spot there. We didn't rehearse or anything we just thought "how we gonna do this"? Ae we going to do it acoustic acoustic or just play as we normally do on acoustics! (Laughs). It was good fun and we threw in a couple of Dio covers in there as well. I think that was the first time we did an actual full on acoustic performance.
NI ROCKS – Would you say you're a fan of the unplugged type gig or even of he orchestral type ones that the likes of Kiss and Metallica have done. Would you be a fan of that type of thing?
CHRIS – I think I am actually. I've probably grown a lot more to that kind of vibe. I think if you'd asked me that question five years ago I probably would have said no (laughs). It's something that has definitely become an interest for me. Definitely within the past 12 months. One of my favourite things was the Scorpions unplugged sessions. I really enjoyed that. A lot of the stuff you hear like Lizzy or Maiden do, that has a kinda celtic background, when you transfer it to acoustic feels very natural. Some of the Maiden stuff when I've done unplugged shows with Blaze Bayley, that kind of style with the harmony guitars just comes across very natural. The vibe of it all is very cool.
NI ROCKS – Yeah, Ricky Warwick actually does a very good acoustic version of Running Free.
CHRIS – Yeah, there are things like that you probably never thought would. It was probably never written on an acoustic guitar. It was probably turned up to 11 in the rehearsal room and the song written like that. There's almost a certain "romance" to it when it comes to being played on an acoustic guitar.
NI ROCKS – We're gonna play a second track from the album now.  What's it going to be and tell us a little about it.
CHRIS – We're going to go for "Seafarer" I think. That was the first song we decided to record I think and definitely the first that we decided Wizz and I would sing together on. We had this weird idea that I'd sing a verse, then he'd sing a verse and then we'd do a chorus together. Do a different voices thing. We weren't too sure how it would turn out in the end but we think it turned out really well. There's almost a "Lord of the Rings" vibe to this one. You almost imagine being sat on a boat with the waves and these two wizards talking to you or something.
NI ROCKS – Absolva of course are still going strong. The latest studio album "Anthems to the Dead" was released last May. What are the future plans for Absolva and when do think we'll see the third studio album?
CHRIS – The next plans for Absolva are that we're taking off to Europe for two months in March and April. I think we've something like 25 shows over in Europe. We're trying to get to all the places we didn't manage to get to on the last tour. There are a lot of places in Germany; I always forget how big Germany is. I always thought it was that place in between France and Belgium and you had to go through it to get to Poland (laughs). It's a huge country and we've got a really strong fan club in Germany – Ostfriesland – and they're very supportive of us.
So it's a full on European tour and then we've already started working on the third studio album. We've got quite a few songs and we're going to include some new songs in the new set list. It's taken a bit of a weird turn because we've a new bass player now, Karl. That was after the European tour when Luke stepped in on bass because he was available from Iced Earth. Then Karl came in, and then we found out that Luke was still available because he's not going out again until July with Iced Earth. I though if Luke is still around we can stick him on guitar again. He's a very good guitar player and I can get that double guitar thing back in the live performance for a little while. And of course if Luke's around, as we've been working together for so long and we're brothers it would be good if he could work on the new album with us. I think we've got about 15 songs written together already. We'll be working on those, picking out the absolute gems from those songs. I think we're heading into the studios around July. We haven't planned a release date yet. We're aiming for the end of 2015, probably the very end but more likely early 2016. That's sort of a question mark at the moment, but its well on the way basically.
NI ROCKS – You're also involved in other projects such as the Blaze Bayley band and were part of the Dave Evans EP and tour last year as well I believe. Have you any other projects on the horizon or is the solo stuff and Absolva keeping you busy?
CHRIS – Yeah, my main concentration is Absolva obviously, but I'm working more and more with Blaze at the moment as well. We've got the SOS festival that we're doing with him at Radcliffe Civic Hall in July. That's an anniversary show of Blaze's first solo album "Silicon Messiah". It's the fifteenth anniversary so we're doing a one off show at SOS Festival where we play "Silicon Messiah" from start to finish which is quite a special thing. We've got people travelling from all over the world really, from Germany, Belgium, Norway, Canada and I think there are even people from China coming.
We're also going out again with Blaze in May or June for a European tour again. So my main concentration at the moment is Absolva and Blaze; if I've got any other time in between, I'll do some more acoustic stuff. But you never know. Someone will probably give me a call and say do you fancy doing this and I'll probably go yeah, if I have time let's do it.
NI ROCKS – What music are you listening to yourself these days?
CHRIS – Accept is always on a regular spin for me at the moment. I'm a really big fan of their new singer.  Black Star Riders. I got for Christmas the Joe Satriani boxset. I've got all 18 studio albums looking at me as I speak to you. I'm always listening to a lot of instrumental stuff as well full on metal stuff. I'm a big Accept fan at the moment; I can't get enough of them.
NI ROCKS – Thanks for taking some time to talk to us. We'll finish off with another track from "Restless". Which one have you picked and why?
CHRIS – "How Will I Feel When You're Gone" I think. That's the one that Luke wrote for the album. It's kind of a soft ballad type thing but I think it has a little bit of Luke's Iced Earth influence in there.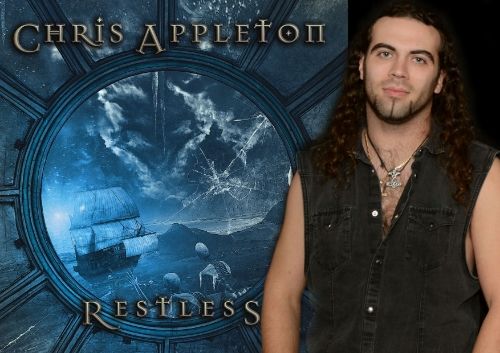 Check out
http://www.mwaweb.com/absolva_news.htm
http://www.mwaweb.com/sos_home_2015.html
https://www.facebook.com/NIRocks
An earlier interview with Chris from November 2012 can be read here -http://www.rockradioni.co.uk/interviews/1125-ni-rocks-interview-with-absolva.html
The playlist for the Friday NI Rocks Show 24th Jan –
SCREAMING EAGLES – Hungry For More
ABSOLVA – Killing Season
Chris Appleton Interview Part 1
CHRIS APPLETON – No Tomorrow
Chris Appleton Interview Part 2
CHRIS APPLETON – Seafarer
Chris Appleton Interview Part 3
CHRIS APPLETON – How Will I Feel When You're Gone
MILLION DOLLAR RELOAD – Bullet In The Sky
LEVEL 10 – Soul of a Warrior
AUTOGRAPH – You Are Us We Are You
THIN LIZZY – Black Rose
Last Updated (Monday, 23 March 2015 02:35)