One of my guests on the Friday NI Rocks Show on 26th February was Tommy Rockit, the lead singer for Stone Trigger who headline the annual "Blazefest" charity fundraiser in The Empire, Belfast on 19th March. I spoke to Tommy via Skype on 23rd February. This interview was included on the Friday NI Rocks Show which was broadcast on 26th February. That Show is now available on our MixCloud page -
https://www.mixcloud.com/NIRocks/interviews-with-tequila-for-breakfast-and-stone-trigger-on-the-friday-ni-rocks-show-26th-feb-2016/
My other guests on that Show are guitarist Alessandro Ciloni and bass player Alba Nasoni from the band Tequila For Breakfast who also play Blazefest VI.
The interview has been transcribed below.
Check out https://www.facebook.com/StoneTrigger
NI ROCKS – Hi Tommy, thanks for taking some time to talk to Rock Radio NI. I thought we'd start off chatting about the band. Stone Trigger traces its roots back to 2009 I believe but it was 2011 before you joined and things really kicked off. Who else is in the band with you at the minute?
TOMMY – The original member is Niall McDermott on drums. Things change in bands and Peter Jordan came in on bass. Shortly after that Ronnie Velvet came in on rhythm guitars and keyboards. He was followed, just before we went on tour with Tracci Guns, by Andii Andrews who plays lead guitar.
NI ROCKS – Putting the band together were there particular bands that influenced the sound that you wanted to create? Either childhood influences or contemporary bands that you liked the sound of.
TOMMY – Yeah, absolutely. We grew up on Bon Jovi, Guns n Roses, Def Leppard, Whitesnake and all that kinda stuff. We thought that it was about time that that kind of music made a bit of a comeback. So we started off with the intentions of wanting to re-create what they had. Then we realised that you can't really re-create what has already been done about 20 or 30 years ago, so we tried to put our own spin on it. I think it has worked pretty well.
NI ROCKS – The band's latest release was the EP "Black Venom" which came out last autumn just before you went on tour. Who did you work with on that EP and where was it recorded?
TOMMY – We worked with producer Michael Richards over at Trackmix Studios in Dublin, over at Blanchardstown. We'd done the previous EP with him and it was just one of those things, when you're working with a producer. Some people get what you're trying to do and some just don't; and he totally understood what direction and what kind of sound we were going for. So we went back to him again and I think he did a really great job on the second EP.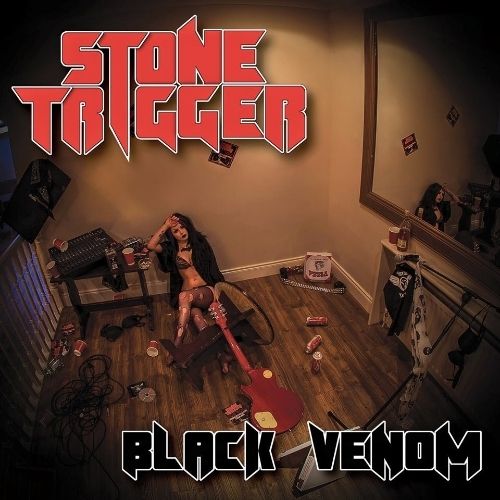 NI ROCKS – How do you feel the band's sound has progressed from the debut EP "Set In Stone" which was released in 2012?
TOMMY – We were really proud of that EP. What we tried to do when we put out "Set In Stone" was try to give examples of what we could do. We had a ballad, we had a kinda ballsy song and a kinda pop rock song; so we tried to give a bit of a mixed bag. I think we've matured a lot as the years went past and it was a few years before we recorded "Black Venom". It's a much more mature record; we knew what we wanted to put out. We'd discovered who we were. Sometimes it takes a band a little while to discover who they are. You can try and sound like this band or that band, but then you discover what really works for you. I think that's the mark we hit when we recorded "Black Venom". We just discovered what kind of band we really were.
NI ROCKS – The release of "Black Venom" coincided with the support tour with Gunzo featuring Tracii Guns and Rudi Sarzo. How did that come about and what were the highlights of the tour for you?
TOMMY – I was planning on going to see AC/DC back in July in Lansdowne Road, Dublin when I got a call the night before from a guy we'd previously worked with and he said he had a question for me – 'How would you like to go on tour with Tracii Guns L.A. Guns' - as they were known then. They hadn't come up with the Gunzo name which is a mixture of Tracii Guns and Rudi Sarzo. My jaw nearly dropped to the floor.
NI ROCKS – An easy answer to that one then?
TOMMY – Pretty much. It was a definite yes from the off. I'd been an L.A. Guns fan since I was a young teenager and to be going on tour with those guys wasn't a difficult decision. I said yes straight away and it was really, really cool.
NI ROCKS – Any personal highlights from the tour?
TOMMY – The whole tour was a highlight. There are some really memorable moments during the tour. The Sheffield gig was one that I've seen Tracii talk about since. It was a crazy night, a bit like a scene from "The Blues Brothers" – crazy stuff. I suppose getting up to sing "Rip And Tear" with Tracii and Rudy in The Diamond in Sutton In Ashfield was a real highlight for me. To be standing there singing my favourite L.A. Guns song with my favourite guitarist of all time was always something that I'd kinda dreamt of; you know when you're standing in front of the mirror with your hair-brush. It was one of those moments when you look over your shoulder and he was really there!
(Tracii Guns was a guest on the Show in September ahead of the Gunzo tour - http://www.rockradioni.co.uk/interviews/2196-ni-rocks-interview-with-tracii-guns.html )
NI ROCKS – Did the guys offer up any advice or words of wisdom on working in the music business?
TOMMY – Yeah, they did and they were really helpful. Especially Rudy Sarzo, who has been there, done that and bought the t-shirt! Talking about working with people like Randy Rhoads, Ozzy Osbourne, David Coverdale; he has played with everybody! He hasn't necessarily been in a band with all the guys that he has played with, but he has appeared with them, toured with them, gone on rock cruises with them and the knowledge of Rudy Sarzo is so extensive. And he is such a nice, soft spoken gentleman too. I couldn't tell you everything in a short interview like this, but the amount of advice, pointers, encouragement that those guys gave us has really inspired us to want to be a band that breaks through; even more than we did before we went on that tour. It was an absolute inspiration. They gave us a lot of advice; some of the best advice Tracii gave me was about hairspray and getting my hair to stay up (laughs).
NI ROCKS – I played the title track from "Black Venom" earlier and we're gonna play another couple as we go along. First up, I thought we'd go with the latest single "Show Your Hands" for which you've also released a video. Anything you can tell us about that track or indeed the making of the video?
TOMMY – Absolutey! We actually had a Belfast band called Cross Eyed Mary who also played at the Belfast gig on the Gunzo tour. We invited those guys down on the night of the video shoot and more or less had a party with all our friends. We wanted to go for that 80's feel video. The "Armageddon" video by Def Leppard was kinda the blue-print, but obviously we didn't an 80,000 all seater stadium to shoot it in; which we would have loved, but didn't have the funds for! It was just us hanging around back stage. We told the cameraman, who was Anthony Downes from Escapism Films here in Dublin, just to shoot what he sees and we all kinda acted like he wasn't there for most of the time, except for the bits where I'm showing off for the camera! (laughs). That was pretty much it.
The song itself was written as one of those "Reach For The Sky" by Firehouse or "Raise Your Hands" by Bon Jovi kinda songs. It was one I wanted to sing for the audience and get them to participate back with the vocals and the hands in the air kinda stuff. When you go to see Stone Trigger it's not merely about watching the band, it's about getting in and interacting with the band and becoming part of the show. For me that's what rock 'n' roll entertainment is all about. It's all about going and participating then walking out saying that was an absolutely great show. We not only went to see that band, I feel like I was in that band for whatever, 40 minutes or an hour.
NI ROCKS – My next question kinda follows on from what you were saying before that track. I read somewhere about your gigs being called a "stadium rock show in a bar". Is that what you aim for?
TOMMY – Absolutely, yeah! Like I was saying earlier about the 80,000 all-seater stadium, I think we'd be more than capable, if we were able to fill it, of being able to work it. At the minute the kind of venues we're playing are more like bars and smaller venues, but we still want to put on the biggest and best show that we can. We're a self financed band, but if we can afford pyrotechnics and confetti cannons, with laser lights and all that kind of stuff; if we can get that and put that into a show, we want to be the full package. Back when we done the launch of the "Set In Stone" EP we had smoke machines, lasers, confetti cannons and pyrotechnics. We didn't do an EP launch for "Black Venom" because we were going out with Rudy, Tracii and the guys; but we really just want to put on the best rock 'n' roll show that you've ever seen, in a small venue!
NI ROCKS – You've played in the North quite a few times, most recently on the Gunzo tour and then supporting the Pat McManus Band at a Rock Radio NI gig in November. You seem to have gathered a fairly good local fan base up here?
TOMMY – Yeah, we absolutely love playing Belfast. I'll say it to anybody; the rock crowd in Belfast is just an absolute different breed, even to down here in Dublin. People come here and watch the show, but up there they love it. They come out in such great numbers and you really have a great rock community up there. We love playing there. We supported Faster Pussycat in 2013 and backed up Maverick, a band from Belfast. We couldn't believe it! We absolutely loved it. People genuinely liked the music and wanted to talk to you. They bought our records and t-shirts which is great for us as we really rely on making that few quid to make the band go forward! If we had all the money in the world, we'd have 30 albums by now! We need to fund the band and the people of Belfast are fantastic at supporting the band and we're really looking forward to coming up again and we've a couple of gigs planned.
NI ROCKS – Yeah, that's my next question actually. Your next visit is for the Blazefest gig in The Empire, Belfast on 19th March. You're looking forward to that one I'm sure. Anything special planned?
TOMMY – At the moment we're planning to possibly play a brand new song. We've been so busy with gigging and stuff like that, that writing new material had been put on the back-burner for a while. But we're writing new stuff at the moment and we're hoping to get a couple of new songs to play. We've been asked to headline which is and such a massive honour. It's our first headline festival and something we're really looking forward to. The Belfast Empire is a venue that we haven't played yet either so we're in discussions at the moment to see what we can do to make it really, really exciting. You can definitely expect plenty of crowd participation and confetti cannons. We don't want to give too much away, but we're going to put a show on that you really want to see.
NI ROCKS – You're back North in May to play The Diamond Rock Club and kick off your tour with The Burning Crows. That'll be your first time playing in The Diamond isn't it?
TOMMY – Yeah, it'll be our first time up with Derwin and the guys at The Diamond Rock Club and we're really looking forward to it as well. There were a couple of times that we were supposed to go up and see acts that he had up there, like Mike Tramp from White Lion and Gilby Clarke, but we couldn't get up for one reason or another. We're really looking forward to playing, not just up there, but with The Burning Crows who are an excellent band. I've seen them a couple of times down here in Dublin and I got onto the lads and said it'd be really cool if we could do a couple of dates together. A couple of dates have turned into five dates now. We're playing The Diamond Rock Club on the 14th May, then Dublin the following night on the 15th and then we're over across the water playing Norwich, Lincoln and London on the 19th, 20th and 21st. So we've five dates with them; it's going to be really cool, I can't wait for it. They're really cool lads too; we had a few beers with them after they played Dublin.
NI ROCKS – Yeah, I've met them before too and interviewed them quite a while ago. They're good lads.
TOMMY – Real rock stars!
NI ROCKS – You've obviously toured the UK before. Will you be playing some of the same venues as your last tour or even same towns? I'm sure you've got some support across the water already.
TOMMY – Yeah we are. We played the Waterfront in Norwich, which is an awesome venue to be honest and it's also the Burning Crows home town and it'll be their first home town gig of 2016, so I'm looking forward to that one. We're also playing Lincoln which we didn't play on the Gunzo tour so I'm looking forward to there. I've heard some really good things about it. We've played Camden a few times before, but we haven't played the Barfly. We played The Dublin Castle in 2011 and played Underworld last year and now The Barfly which I believe is a very good venue as well. Good friends of ours, The Treatment, played there not so long. You can't beat Camden, I love it. If I walked through the area where I live in Dublin with back combed hair, spandex and a red leather jacket I might not make it to the other end of the road, but when you go down to Camden you just fit right in.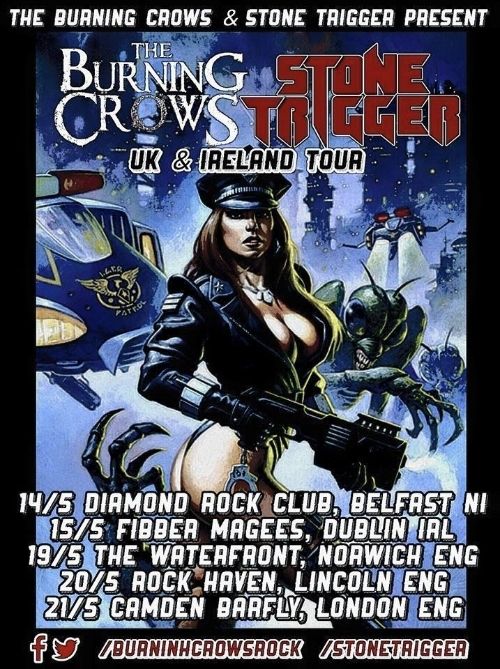 NI ROCKS – What else is coming up for Stone Trigger? Any more gigs planned or news about more recording?
TOMMY – We're hoping to get in and record a brand new EP. Release or recording dates haven't even been confirmed yet, but we definitely want to get in because the next recording we do is going to be the first recording that has all five current members. I'm really looking forward to hearing what the five of us are going to sound like. When you get a new lead guitarist your sound does change. So I'm really looking forward to getting in there. The new songs sound really, really cool. They're slightly heavier, or a couple are anyway. So the immediate plans are to plan for the tour we're doing with The Burning Crows, play the Bazefest we've a couple of other festivals lined up in Dublin and we're still working on maybe adding a few more dates in the UK. Getting up to Belfast and over to the UK is really our priority at the minute because that's where the fan base is. The Republic down here is good but it's just not, at the moment, on the same par as places like London, Norwich or Evesham where we played with Gunzo. The place was in a small commuter town between Wolverhampton and Birmingham. We played there. It was just like a regular bar when you walked in, and when the place was jammed you may as well be in Wembley. At the moment we're trying to get back on to those places – the fan base is there and I think people genuinely like the music.  That's the immediate plan. A few other bits and bobs that I can't really discuss at the moment. It's a really exciting time for the band.
NI ROCKS – We're going to finish off with another track from "Black Venom". There are 3 we haven't played – do you want to pick one to play and tell us a little bit about it?
TOMMY – Yeah, we'll go with the first single that we released called "Rattle Your Bones". Again, it was one of those songs that we wrote about the audience and what it was like for us, me in particular, going to see a hard rock band. You go running up to the barrier if you're one of the first into the arena and when the band kicks in you feel the bass and the noise rattling your chest. That was where "Rattle Your Bones" came from. What we wanted to do was get out there and rattle your bones. It's the song that we start the set with most of the time, so it sets the pace for the rest of the gig.
NI ROCKS – Thanks again for taking the time to talk to Rock Radio NI. We'll hopefully catch up with you in a few weeks.
TOMMY – Thanks for having me Nigel, it's been a pleasure.
Playlist for the Friday NI Rocks Show 26th February
SCREAMING EAGLES – Screaming Eagles
TRIGGERMAN – The Riff Holds Sway
GASOLINE OUTLAWS – Nothing On Me
Tequila For Breakfast Interview Part 1 (6 minutes)
TEQUILA FOR BREAKFAST – A Song For Phil
Tequila For Breakfast Interview Part 2 (10 minutes)
TEQUILA FOR BREAKFAST – Rockabeer
STONE TRIGGER – Black Venom
Stone Trigger Interview Part 1 (8 minutes)
STONE TRIGGER – Show Your Hands
Stone Trigger Interview Part 2 (9.5 minutes)
STONE TRIGGER – Rattle Your Bones
L.A. GUNS – Rip And Tear
THE BURNING CROWS - Alright