NI ROCKS Interview with TÅVE WANNING from ADRENALINE RUSH (Apr 2017)
Swedish band Adrenaline Rush, fronted by Tåve Wanning, released their second album, entitled "Soul Survivor" via Frontiers Music on 21st April. Tåve had been a guest on the Friday NI Rocks Show back in September 2014, following the release of the bands self-titled debut album. I decided to catch up with her for another chat to find out about the new album, what the band had been getting up to and future plans. That interview was included on the Friday NI Rocks Show dated 28th April. That Show can now be found on our MixCloud page - https://www.mixcloud.com/NIRocks/interview-with-t%C3%A5ve-from-adrenaline-rush-on-the-friday-ni-rocks-show-28th-april-2017/
The interview has been transcribed and posted below.
The interview from September 2014 can be read here - http://www.rockradioni.co.uk/interviews/1664-ni-rocks-interview-with-tave-wanning-from-adrenaline-rush.html
or listened to on our MixCloud page – https://www.mixcloud.com/NIRocks/interview-with-tave-manning-from-adrenaline-rush-friday-ni-rocks-show-19th-sept/
Dim lights Embed Embed this video on your site
Playlist for the Show –
TRUCKER DIABLO – We Stand Strong
GUNS N' ROSES – Nightrain
KISS – Hotter Than Hell
AIRBOURNE – It's All For Rock n' Roll
CRAZY LIXX – Wild Child
ADRENALINE RUSH – Love Is Like Poison
Interview with Tåve from Adrenaline Rush Part 1 (6 min)
ADRENALINE RUSH – Soul Survivor
Interview with Tåve from Adrenaline Rush Part 2 (3 min)
ADRENALINE RUSH – Sinner
Interview with Tåve from Adrenaline Rush Part 3 (3.5 min)
ADRENALINE RUSH – Adrenalin
SAFIRE – Fallen Angel
ROCK GODDESS – It's More than Rock n Roll
THE FERRYMEN – End of the Road
AXEL RUDI PELL – I See Fire
SECRET SPHERE – The Calling
ELEVATION FALLS – Watching Over You
AEROSMITH – Dream On (Live)
NI ROCKS - Thanks for taking the time to talk to Rock Radio NI. Adrenaline Rush have just released their excellent second album called "Soul Survivor" through Frontiers Records; tell us who you worked with on recording and production and who the other members of the band are.
TÅVE – Thank-you first off. The original plan was to work with Erik Mårtensson again, just like the first time, but since he has moved his studio away from Stockholm, he suggested that we meet up with his friend Fredrik to see how things felt and we hit it off immediately. Fredrik Folkare his name is and he's a heavy metal guitarist. We wanted to do the record more rougher this time and be more heavier, and I'm older now so that was the natural way for us to have more complex songs and a bit more deeper lyrics I think. That was basically it. I've also worked with some other great song-writers on this one – I still have Erik Mårtensson with me again of course and I have worked with guys like Lee Revill and Pete Godfrey from Blood Red Saints (Check out the interview with Pete from Dec '15 here - http://www.rockradioni.co.uk/interviews/2370-ni-rocks-interview-with-pete-godfrey-from-blood-red-saints.html ) and my dad has also written a couple of lyrics. I also must mention Thomas Vikström. So I'm a really happy girl. To be able to work with those talented artists is really cool.
NI ROCKS – It's a great album. Who are the other members of the band. Give them a shout out!
TÅVE – Yeah, we actually changed the line-up a bit. We lost Ludvig and Souflan who decided to focus on other projects this time, so we wish them the best of luck. The new members are Joel Fox on bass and he is quite well known; he's been around for a while, from bands like Dynazty. He's as steady as a rock and a super cool guy and great singer as well. Then we have Sam Soderlindh on lead guitar, but he is quite unknown as he is young still. But he plays fast licks and is always positive and has a good vibe. Couldn't be happier. (Alexander Hagman on guitar and Marcus Johansson on drums remain from the earlier line-up).
NI ROCKS – As you mentioned the new album has a heavier edge to it than your first album. How would you compare the two?
TÅVE – The first one is more melodic rock n roll. It's a bit nicer (laughs), if you can explain it that way. I'm older now and my voice is deeper. The first is more like 80's feeling. In the nicest way, the new album is still 80's feeling, party vibe, but it's more heavy riffs and a bit deeper lyrically.
NI ROCKS – It's a great album. You've a gig coming up at home in Stockholm tomorrow and then you're off to Italy for the Frontiers Rock Festival. You've played there before. How important are shows like that for expanding the bands fanbase?
TÅVE – It's very important. We haven't done any big gigs like that since the last (Frontiers) festival. There were some festivals here in Sweden but nothing that big. It's a great opportunity for us to meet other bands, to meet different fans from different countries and to get outside Sweden. It's hard here – people are more negative and stuff like that actually. I love to play live shows and I want to see the world, so hopefully we'll be able to play in other parts of the world this time.
NI ROCKS – That was my next question actually. Are there plans to tour anywhere beyond the Frontiers show in Italy?
TÅVE – Of course we've plans, but we're still a small band and it's hard. We're working hard and hopefully we'll get there someday. (Laughs)
NI ROCKS - The first track to be released from the album was "Love is Like Poison" which I'll play at the start of the show. Was that your choice of single and how much input did you have to the video that was released for that track?
TÅVE – That was the first song that I really felt a connection to and it set the whole vibe for this record actually. So it's one of my favourites. It's hard to create videos since our first one was so cool (laughs) and expensive to do. We didn't have that budget this time unfortunately, but I think it's a good mix. You can see the band there and we have some clips of me in my apartment actually. Hopefully you like it.
NI ROCKS – It was a great video too. We played that track earlier so we'll play another track from the new album now. Which one would you like to play and tell us a little bit about it?
TÅVE – I think I would choose "Soul Survivor" because it's my absolute favourite and that is why I named the record "Soul Survivor". It's a killer ballad and it almost feels like a movie soundtrack to me. It's about life – like don't lose yourself in difficult times. Stay strong and battle through and you'll come out the other end as a winner. It's a very fun song to sing and I hope you like it.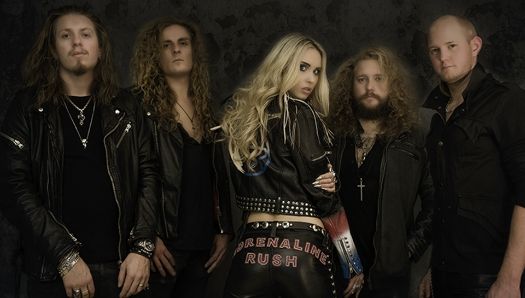 NI ROCKS - It's hard to believe that it's almost two and a half years since we last spoke back in September 2014, following the release of your debut album. I'm sure you've been involved with lots of things since then. One recent project I'm aware of was the album by Marc Vanderberg last year. How did you get involved with Marc?
TÅVE – He actually wrote to my dad asking if I would lay down a chorus on his song and I did.
NI ROCKS - Have you done any other collaborations over the last couple of years?
TÅVE – Not so much in the recording studio. I have a little side project but nothing has been released yet. I did a live show with Doug Blair, the guitarist from W.A.S.P. actually, but that's it.
NI ROCKS - Frontiers have a reputation for bringing artists together on projects. Has there been any discussion of doing something with Frontiers other than, or as well as, Adrenaline Rush?
TÅVE – No, not right now.
NI ROCKS - Is there anyone that you'd like to work with if that was offered to you? Who would you like to work with?
TÅVE – From Frontiers? That's a hard one, there so many good artists. I don't know really. I've worked with Crazy Lixx before and laid down some vocals on their last album, not the new one. I don't know really! I'd have to think about it.
NI ROCKS – You'd work with anyone I'm sure.
TÅVE – Yeah, exactly. I have my idols, but he's not on Frontiers. That's Michael Monroe. That would be awesome to sing with him. That's a dream of mine.
NI ROCKS - Fashion-wise, you've a really great rock and roll image that's also very individual. Do you develop and design your own clothing and style or do you work with other people on that?
TÅVE – I take inspiration from old artists and I like the 70's style and 60's style. On stage I'm more of a leather chick I think, but in private I like the hippy vibe with feathers and fur and stuff like that – fake fur! Fringes and everything; I like to mix and match. I have a lot of style icons out there – I love Steven Tyler, Brigitte Bardot and I mix it up. Also Stevie Nicks.
NI ROCKS - We'll play another track from the new album now. Again, I'll let you chose a track and tell us something about it.
TÅVE – Then I have to say "Sinner". I love this one as well. It's got deep lyrics about love and hate and realising that you're better off alone than with a person that hurts you.
Dim lights Embed Embed this video on your site
NI ROCKS - As I said earlier it was almost two and a half years between album number one and number two. Are you contracted to Frontiers for a third album and what kind of timescale do you think there might be on that?
TÅVE – There's nothing decided yet. I'm glad that I'm able to do a second one (laughs), so we'll see how this goes. I have no expectations, I just love that I'm able to do this and happy that people actually like it. So, we'll see what happens.
NI ROCKS – The new album has been very well received. You've been getting some great reviews.
TÅVE – Yeah.
NI ROCKS - I know from our previous conversation and from your social media posts that you're a big fan of Fleetwood Mac and specifically Stevie Nicks, who you mentioned a minute ago. Would you list her as one of your musical influences and who else would be on that list?
TÅVE – Yeah, of course she is. She's a great singer. Like I said before, Michael Monroe is my number one hero, so Hanoi Rocks. Rob Halford. When it comes to singing, I like a lot of people out there. Robert Plant and with girls – Vixen, Pat Benatar, Lee Aaron. There's a lot of great music out there.
NI ROCKS - What artists have you been listening to recently and can you remember the last album that you bought and last gig that you went to?
TÅVE – Oh, I'll have to think about that! The last gig I went to! Oh, it was Rival Sons actually. A couple of weeks back. I love Rival Sons. I don't remember the last album! That's bad! (Laughs).
NI ROCKS - Presumably you liked to get Adrenaline Rush playing at something like the Sweden Rock Festival. Will you be attending yourself this year and what would be the highlights in the line-up for you?
TÅVE – Well I'm not going this year actually, as I'm not in the country. I'm going to LA actually at that time. But obviously Aerosmith is playing so that would be the highlight for me. I would love to play there sometime. Sweden Rock is a great festival. You should visit it if you're into rock. So we'll see; maybe next year!
NI ROCKS - We'll finish off by playing another track from the new album. Again, I'll let you pick one and tell us a little about it.
TÅVE – I think I'll go for "Adrenaline", it's a simple kick-ass tune. It's about anything that makes you feel the adrenaline rush, like a new love or something cool (laughs). It's a fast one.
NI ROCKS - Thanks for taking the time to talk to Rock Radio NI. I hope you have a great time in Italy this weekend and good luck with the new album.
TÅVE – Thank you so, so much; it's my pleasure.
Dim lights Embed Embed this video on your site
Last Updated (Friday, 07 July 2017 21:21)